Triple combination of therapies shows promise in pancreatic cancer trial
The combination of motixafortide, KEYTRUDA® and chemotherapy met all trial endpoints, including increasing overall and progression free survival.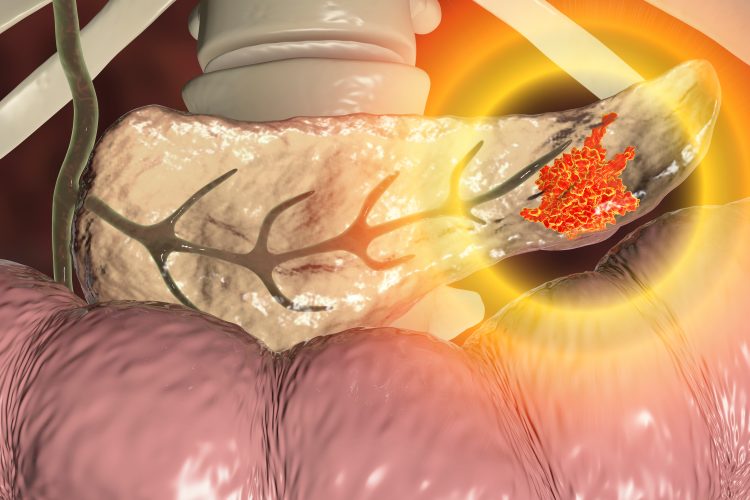 BioLineRx Ltd. has revealed that stage IV pancreatic ductal adenocarcinoma (PDAC) patients treated with the triple combination of motixafortide (BL-8040), KEYTRUDA® (pembrolizumab) and chemotherapy in its COMBAT/KEYNOTE-202 clinical study had a meaningful improvement in their overall and progression free survival.
The triple combination study arm enrolled a total of 43 patients initially diagnosed with unresectable stage IV metastatic PDAC, who had progressed following first-line gemcitabine-based therapy. They received motixafortide monotherapy priming treatment for five days, followed by combination cycles of motixafortide, KEYTRUDA and chemotherapy (Onivyde®/5-fluorouracil/leucovorin) until progression. The primary endpoint of the study was to improve the objective response rate (ORR), compared to historical data from the use of the same chemotherapy alone; secondary endpoints include confirmed objective response rate (cORR), overall survival (OS), progression free survival (PFS), and disease control rate (DCR).
A summary of the data can be found below:
| | | |
| --- | --- | --- |
| Endpoint | COMBAT/KEYNOTE-202 | Historical data |
| Median overall survival (mOS) | 6.5 months | 4.7 months (Macarulla Mercade et al., Pancreas 2020) |
| Median progression free survival (mPFS) | 4.0 months | 2.7-3.1 months (Petrelli et al., Eu J Cancer 2017 and Onivyde prescribing information) |
| Confirmed overall response rate (cORR) | 13.2 percent | 7.7 percent (Onivyde prescribing information)  |
| Overall response rate (ORR) | 21.2 percent | 16 percent  (Macarulla Mercade et al., Pancreas 2020) |
| Disease control rate (DCR) | 63.2 percent | 29-52 percent  (Petrelli et al., Eu J Cancer 2017 and Wang Gillam, Eu J Cancer 2019) |
According to investigators, the combination was generally well tolerated, with a safety profile consistent with the individual safety profile of each component alone. Of note, certain safety advantages were demonstrated by the triple combination, when compared to historical data. These safety advantages include incidence of grade 3 neutropenia (seven percent versus historical data of 20 percent) and incidence of grade 3 infections (seven percent versus historical data of 17 percent).
"These results are highly encouraging in light of the extremely challenging population, even among PDAC patients, in this study cohort," said Dr Manuel Hidalgo, Chief of the Division of Hematology and Medical Oncology and a Senior Member of the Sandra and Edward Meyer Cancer Center at Weill Cornell Medicine and NewYork-Presbyterian/Weill Cornell Medical Center, all US, and principal investigator of this study. "All patients were initially diagnosed at stage IV, and greater than 70 percent had liver metastases, key contributing factors to very poor prognoses. I believe the results from this study strongly support further development."
Philip Serlin, Chief Executive Officer of BioLineRx, added: "We are extremely pleased with these results, which demonstrate a meaningful improvement versus historical data across all study endpoints. The consistent improvement across all study endpoints represents a key differentiating factor relative to other compounds that showed improvement in only one endpoint in their initial studies and eventually failed in advanced studies. These positive results are further supported by a long-lasting median durability of clinical benefit of 5.6 months that we observed in this trial.  
"Pancreatic cancer is one of the most difficult cancers to treat, with five-year survival rates of just nine percent overall – and three percent for the greater-than-50-percent of patients initially diagnosed at stage IV. Therefore, even marginal improvements in survival endpoints in pivotal studies have been considered clinically meaningful and sufficient for regulatory approval. These positive efficacy results across all endpoints give us a high degree of confidence in their repeatability in a randomised trial and we plan to meet with the regulatory authorities in order to agree on the fastest pathway forward in this indication. 
"In addition, we believe these results clearly support investigating the motixafortide/immune-checkpoint-inhibitor platform with other standard-of-care chemotherapies in earlier PDAC treatment lines, as well as in other 'cold' solid tumours. To that end, we are currently investigating motixafortide in combination with an anti-PD-1 and chemotherapy (gemcitabine and nab-paclitaxel) in first-line pancreatic cancer and we are assessing potential combinations in other solid-tumor indications as well."
The company plans to present the full data set at an upcoming medical conference.