Trial to assess AstraZeneca's long-acting COVID-19 antibody therapy
The ACTIV-3 sub-study will evaluate the safety and efficacy of the AZD7442 synthetic antibody combination in at least 150 participants with mild-to-moderate COVID-19.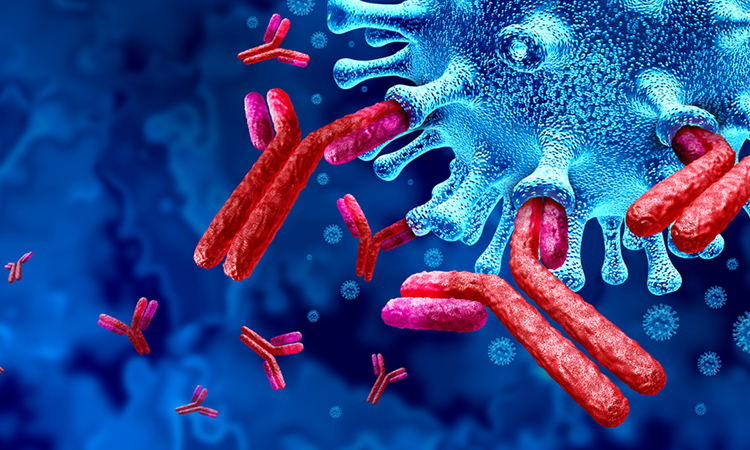 A new sub-study has begun evaluating the safety and efficacy of AZD7442, an investigational long-acting antibody combination, in people hospitalised with COVID-19. The trial is part of the US National Institute of Allergy and Infectious Diseases (NIAID)'s ACTIV-3 master protocol.
AZD7442 is a synthetic antibody product based on antibodies originally isolated from two patients who had recovered from COVID-19 by researchers at Vanderbilt University Medical Center, US, which were licensed to AstraZeneca. According to the NIAID, the investigational antibody combination might function both as a treatment and as a means of preventing infection with SARS-CoV-2, the virus that causes COVID-19. However, the ACTIV-3 trial will only be testing its efficacy as a therapeutic.
ACTIV-3 is part of the NIH Accelerating COVID-19 Therapeutic Interventions and Vaccines (ACTIV) public-private partnership to develop a coordinated research strategy for prioritising and accelerating development of the most promising treatments and vaccines. The adaptive ACTIV-3 master trial is designed to conduct multiple different trials of experimental therapeutics simultaneously and allows investigators to add new sub-studies of additional investigational agents. The placebo group serves as a shared comparison group for two or more experimental therapeutics, increasing the chance that participants will receive a therapeutic in this randomised trial.
The new sub-study of AZD7442 will be running concurrently with two other sub-studies, one evaluating VIR-7831, a SARS-CoV-2 experimental monoclonal antibody developed by GlaxoSmithKline and Vir Biotechnology, Inc; and the other assessing the combination of BRII-196 and BRII-198, two investigational SARS-CoV-2 neutralising monoclonal antibodies manufactured by Brii Biosciences.
Participants in the sub-study will be hospitalised COVID-19 patients with mild-to-moderate symptoms for fewer than 13 days. They will be randomised to receive either a saline placebo control or one of the three experimental therapeutics. After five days, the participants' medical condition will be assessed on two seven-point ordinal scales, each ranging from being able to undertake usual activities with minimal or no symptoms to death.  
If assessments from approximately 150 volunteers suggest AZD7442 is likely to be both safe and effective, enrolment in the trial will be expanded. At that time, an additional 700 participants, some of whom may have more severe cases of COVID-19, will be enrolled and randomised in the trial. This expanded pool of participants will allow researchers to better evaluate whether the therapeutic fulfills the trial's primary endpoint of sustained recovery (patients have been discharged from hospital and have lived at home for 14 consecutive days).