Tecan's new QC Kit for Freedom EVO® workstations released
Tecan has launched the QC Kit, a total solution for liquid handling performance verification testing on Freedom EVO® workstations…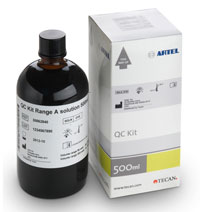 Tecan has launched the QC Kit, a total solution for liquid handling performance verification testing on Freedom EVO® workstations.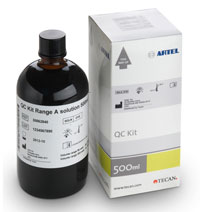 Created in collaboration with Artel – the worldwide leader in liquid handling quality assurance – the QC Kit incorporates Artel's proprietary Ratiometric Photometry™ technology within the Freedom EVO system. It offers precision and accuracy performance verification which is fully traceable to the International System of Units (SI) – through reference standards maintained by NIST (in the US) and NPL (in the UK) – allowing direct comparison of verification testing results between different sites and instruments.
The new QC Kit includes an Infinite® F50 or Infinite 200 PRO microplate reader, calibrator plate, shaker, barcode scanner and a Freedom EVOware® wizard plus a range of co¬branded consumables, including characterized verification microplates and solutions. This tool provides clinical, pharmaceutical and forensic laboratories with a robust solution to meet increasing quality and regulatory demand for performance verification testing.
To find out more about Tecan's QC Kit, visit www.tecan.com/qckit
Artel and MVS are registered trademarks; Ratiometric Photometry is a trademark of Artel.