NICE recommends new triple therapy treatment for multiple myeloma
Carfilzomib with dexamethasone and lenalidomide could be offered to approximately 2,000 NHS patients as a second line treatment for multiple myeloma.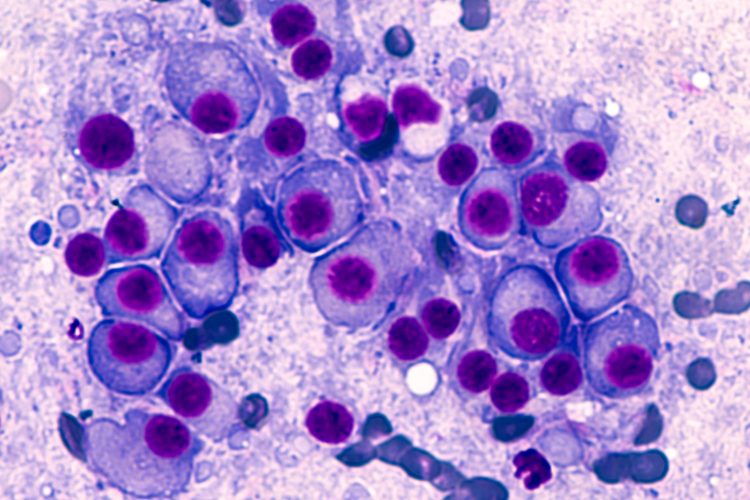 Bone marrow aspirate cytology of multiple myeloma, a type of bone marrow cancer of malignant plasma cells, associated with bone pain, bone fractures and anemia.
The UK's National Institute of Health and Care Excellence (NICE) has recommended a new second line therapy for multiple myeloma be made available on the UK's National Health Service (NHS).
The approval of carfilzomib with dexamethasone and lenalidomide was made after a confidential discount was arranged. According to NICE, the therapy could be offered to around 2,000 patients with multiple myeloma who have had at least one previous therapy that includes bortezomib.
Clinical trial evidence shows that carfilzomib with lenalidomide and dexamethasone gives longer periods of remission and extends survival, compared with the current second line treatment lenalidomide plus dexamethasone. According to the NICE's independent appraisal committee, some of the evidence indicates that the benefit of the triple therapy treatment may continue for up to six years, although this is not certain.
The committee made the decision that the most likely cost-effectiveness estimates, following a confidential discount from the manufacturer Amgen, are within what NICE normally considers a cost-effective use of NHS resources. Therefore, the therapy was recommended for NHS use.
Meindert Boysen, deputy chief executive and director of the Centre for Health Technology Evaluation at NICE, commented: "The recommendation of our committee will be welcomed by people with multiple myeloma who have told us of the need of a new second line treatment option that gives longer periods of remission and improves survival.
"The clinical data shows that the benefits of this triple therapy continue after treatment has stopped.  A positive decision has been made possible after the company and NHS England came to a commercial arrangement which allows carfilzomib to be used on the NHS with a confidential discount."
Professor Peter Johnson, NHS England Clinical Director for Cancer, added: "Even as we continue to care for COVID-19 patients, it is vital that we continue to innovate and offer cancer patients the best available treatments, which is why the NHS has worked hard to reach this agreement for carfilzomib which can extend the lives of those with multiple myeloma. It provides doctors another option to treat this disease and gives patients hope when alternative treatments have not worked, ensuring the NHS can continue to give first-class care to patients."
Carfilzomib is administered by intravenous injection and a 60mg vial has a list price of £1,056 plus VAT.
NHS patients will be offered a maximum of 18 cycles of treatment in accordance with the guidance.