REGEN-COV™ antibody cocktail reduces hospitalisation or death by 70 percent
Phase III data shows treatment with REGEN-COV™ (casirivimab and imdevimab) significantly reduces the risk of high-risk COVID-19 infected outpatients being hospitalised or dying.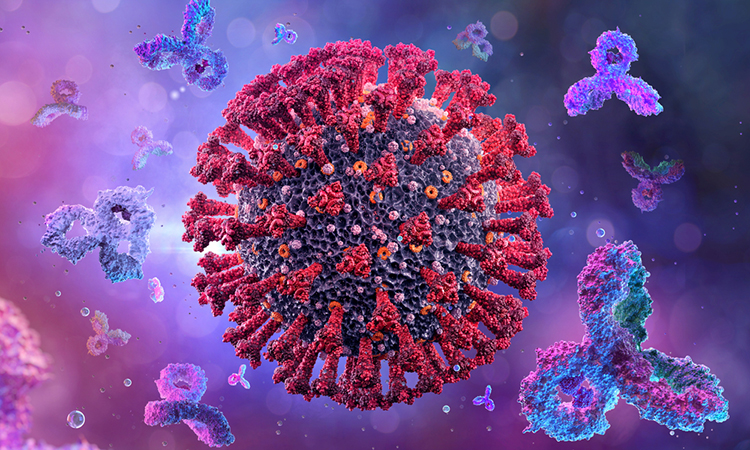 Regeneron Pharmaceuticals has released new results from a Phase III trial evaluating intravenous (IV) doses of its investigational REGEN-COV™ (casirivimab and imdevimab) antibody therapy in high-risk non-hospitalised patients with COVID-19.
The trial met its primary endpoint, significantly reducing the risk of hospitalisation or death by at least 70 percent compared to placebo, and its secondary endpoints – including reducing time to recovery by four days (See Table 1 for full results).
Table 1: Key Results from Phase III Outpatient Trial

 
 

1,200 mg
IV REGEN-COV

Placebo

2,400 mg
IV REGEN-COV

Placebo

n=736

n=748

n=1,355

n=1,341

Patients with a COVID-19-related hospitalisation or death through day 29

Risk reduction

70 percent

(p=0.0024)

71 percent

(p<0.0001)

number of patients with events

7 (1.0 percent)

24 (3.2 percent)

18 (1.3 percent)

62 (4.6 percent)

Time to COVID-19 symptom resolution

Median (days)

10

14

10

14

Median reduction (days)

4

(p<0.0001)

4

(p<0.0001)
A safety assessment was conducted on all available patient data up to day 169 and identified no new safety signals. Serious adverse events (SAEs) were largely related to COVID-19 and occurred in 1.1 percent of patients in the 1,200mg group, 1.3 percent in the 2,400mg group and four percent in the placebo group. There was a single death in each of the treatment groups and five deaths in the placebo groups.
"This is a landmark moment in the fight against COVID-19 as this large well-controlled trial provides conclusive results demonstrating that REGEN-COV can dramatically reduce the risk of hospitalisation and death in the outpatient setting," said Suraj Saggar, trial investigator and Chief of Infectious Disease at Holy Name Medical Center in Teaneck, New Jersey, US. "With so many people still getting infected, as well as recent data showing that REGEN-COV addresses emerging variants, these data underscore the need to rapidly adopt REGEN-COV as standard-of-care to offer high-risk patients their best chance to reduce serious consequences like hospitalisation or death."
In addition to the Phase III results, Regeneron also revealed that a companion Phase II trial testing various doses of REGEN-COV (IV: 2,400 mg, 1,200 mg, 600 mg and 300 mg; subcutaneous [SC]: 1,200 mg and 600 mg) demonstrated that even the lowest doses (300mg IV and 600mg SC) induced comparable viral load reductions to the 2,400mg and 1,200mg IV doses over the first seven study days.
Dr George Yancopoulos, President and Chief Scientific Officer at Regeneron, stated: "We will discuss the new data with regulatory authorities and request that the 1,200mg dose be rapidly added to the US Emergency Use Authorization, in order for the anticipated REGEN-COV supply to be available to treat even more patients. These Phase III data will also form the basis of a full Biologics License Application."