TECAN and JPT Peptide Technologies announce cooperation agreement
TECAN and JPT Peptide Technologies GmbH announced a collaborative agreement between the two specialist companies…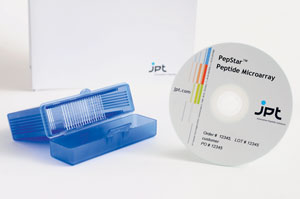 JPT's peptide microarrays
TECAN and JPT Peptide Technologies GmbH, a wholly-owned subsidiary of BIONTECH AG, today announced a collaborative agreement between the two specialist companies. Within the scope of the agreement, the parties agree to co-promote JPT's wide range of catalog peptide arrays and profiling capabilities alongside TECAN's portfolio of leading microarray handling devices.
"We are very glad to have reached an agreement with JPT which presents enormous advantages for both companies, and also for our customers," stated Siegfried Sasshofer, Director of Marketing Detection at TECAN Austria GmbH. "Providing a high level of data quality and consistency is a burning need in microarray research. JPT is clearly the market leader in the growing field of peptide microarrays and their use for seromarker discovery, immune monitoring and enzyme profiling. Combining JPT peptide microarrays with our Tecan HS 4800™ Pro and HS 400™ Pro hybridization stations for automated microarray processing will provide our customers with a new level of process standardization to maximize the value of their research."
"Over the past decade Tecan's instruments have been critical for JPT to develop our PepStar™ peptide array technology into a robust and reliable platform. As a consequence, it is a pleasure to team up with Tecan and to fully reap the benefits of JPT's peptide arrays with Tecan's devices for serological and enzymatic assays," said Holger Wenschuh, CEO of JPT.