Abbott's investigational interferon-free Hepatitis C treatment regimen achieved SVR12 (observed data) rates in 99 percent of treatment-naïve
Initial results from "Aviator"…

Abbott today announced initial results from "Aviator," a phase 2b study of its interferon-free, investigational regimen for the treatment of hepatitis C (HCV). Initial results show sustained virological response at 12 weeks post treatment (SVR12) in 99 percent of treatment-naïve (n=77) and 93 percent of null responders (n=41) for genotype 1 (GT1) HCV patients taking a combination of ABT-450/r, ABT-267, ABT-333 and ribavirin for 12 weeks, based on an observed data analysis.
Full results from the study will be presented at the Latebreaker Session of The Liver Meeting, the Annual Meeting of the American Association for the Study of Liver Disease (AASLD) in Boston, November 9-13. Abstracts are available at www.aasld.org.
The observed data analysis used in this abstract does not include six patients who had not yet reached post-treatment week 12 or had missing values (data points) at the time of the abstract submission. All virologic failures and safety discontinuations were included in the analysis.
"There is a significant unmet medical need for genotype 1, the most common form of HCV in the U.S. and Europe," said Kris Kowdley, M.D., director of the Liver Center of Excellence in the Digestive Disease Institute at Virginia Mason Medical Center, and Clinical Professor of Medicine at the University of Washington in Seattle. "Results from this phase 2b study suggest that sustained virological response can be achieved without interferon in a high proportion of genotype-1 patients, including patients who have not responded to previous treatment. This is exciting news as we continue to study treatment options for patients."
"Based on the promising results we've seen, Abbott has selected a triple direct acting antiviral regimen, with and without ribavirin for phase 3 development," said Scott Brun, M.D., divisional vice president, Infectious Disease Development, Abbott. "The ability to show sustained virological response in these patient populations, without the use of interferon, is extremely encouraging."
Study M11-652 (Aviator)
Kris Kowdley, et al.; Monday, November 12 (3:00-3:15 p.m. ET)
"A 12-Week Interferon-free Treatment Regimen with ABT-450/r, ABT-267, ABT-333 and Ribavirin Achieves SVR12 Rates (Observed Data) of 99% in Treatment-Naïve Patients and 93% in Prior Null Responders with HCV Genotype1 Infection"The objective of this phase 2b study was to assess the safety, and efficacy of ABT-450/r (dosed 100/100 to 200/100mg QD), ABT-267 (25mg QD), ABT-333 (400mg BID) and ribavirin in non-cirrhotic treatment-naïve patients and prior peg-interferon/ribavirin null responders for 8, 12 or 24 weeks.
Enrollment was open to GT1-infected patients regardless of IL28B host genotype and ribavirin dosing was weight-based.
The 12-week regimen of three direct acting antivirals plus ribavirin had the highest SVR12 rates among the 8 and 12 week arms. Results from the 12 week treatment groups containing three direct acting antivirals plus ribavirin are summarized in the chart below.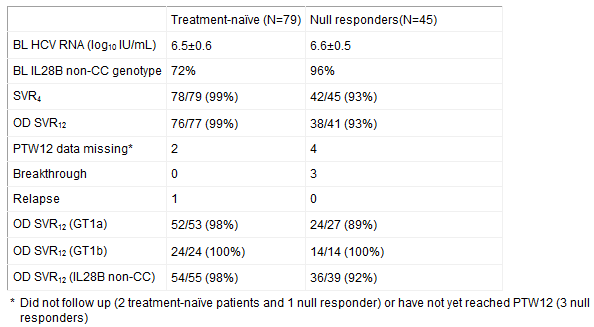 Additional data presented in the abstract represent all 8- and 12-week arms (n=448) of this 14-arm study (571 patients enrolled: 438 treatment-naïve and 133 prior null responders). SVR12 rates for other 8- and 12-week regimens ranged from 89-92 percent. Complete SVR12 data for 8- and 12-week arms will be presented at the Liver Meeting.
Four of 448 patients (one percent) in the 8- and 12-week arms discontinued due to adverse events. Of five serious AEs (1 percent), 1 (arthralgia or joint pain) was possibly study drug-related. In the trial, the most common adverse events were fatigue (28 and 27 percent) and headache (28 and 31 percent) for treatment naïve and null responders respectively.
Abbott Data at AASLD
In addition to Aviator, there are four poster presentations on Abbott's investigational medicines for the treatment of HCV:
Tami Pilot-Matias et al.; Sunday, November 11 (8:00 a.m.-5:30 p.m. ET)
"Characterization of Resistant Variants in NS3 and NS5B Detected in Subjects Treated with ABT-450/r, Ribavirin, and Either ABT-072 or ABT-333 in the Pilot and Co-Pilot Studies Who Experienced Virologic Breakthrough or Relapse"
Preethi Krishnan et al.; Tuesday, November 13 (8:00 a.m.-12:00 p.m. ET)
"Antiviral Activity and Resistance Profiles for ABT-267, a Novel HCV NS5A Inhibitor, In Vitro and During 3-Day Monotherapy in HCV Genotype-1 (GT1)-Infected Treatment-Naïve Subjects"
Lane Kirbach et al.; Tuesday, November 13 (8:00 a.m.-12:00 p.m. ET)
"Evaluation of Patient Preferences for Treatment Outcomes in Hepatitis C Virus (HCV)"
Amit Khatri et al.; Sunday, November 11 (8:00 a.m.-5:30 p.m. ET)
"Pharmacokinetics and Safety of Co-administered ABT-450 plus Ritonavir (ABT-450/r), ABT-267 and ABT-333 as a Single Dose in Subjects with Normal Hepatic Function and in Subjects with Mild, Moderate and Severe Hepatic Impairment"
About the Hepatitis C Virus
Hepatitis C is a liver disease affecting as many as 170 million people worldwide. The virus is primarily spread through direct contact with the blood of an infected person. HCV increases a person's risk of developing chronic liver disease, cirrhosis, liver cancer and death; and liver disease associated with HCV infection is growing rapidly.
About Abbott's HCV Development Programs
Abbott's HCV portfolio includes investigational medicines with three different mechanisms of action, including protease (ABT-450/r), polymerase (ABT-333) and NS5A (ABT-267) inhibitors, currently being studied in clinical trials. ABT-450 is being developed with low dose ritonavir which enhances the pharmacokinetic properties of ABT-450. The use of ritonavir 100 mg with ABT-450 for the treatment of HCV is investigational. ABT-450 was discovered during the course of a collaboration between Abbott and Enanta Pharmaceuticals for HCV protease inhibitors and regimens that include protease inhibitors.
ABT-450 is being developed by Abbott for use in combination with Abbott's other investigational medicines for the treatment of HCV. Abbott is well-positioned to explore combinations and co-formulations of these medicines.
Ritonavir Use in Treatment of HIV
Ritonavir is in a class of medicines called the HIV protease inhibitors. Ritonavir is used in combination with other anti-HIV medicines to treat people with human immunodeficiency virus (HIV) infection. Ritonavir is for adults and for children greater than 1 month in age and older.
Ritonavir does not cure HIV infection or AIDS and does not reduce the risk of passing HIV to others. People taking ritonavir may still get opportunistic infections or other conditions that happen with HIV infection. Some of these conditions are pneumonia, herpes virus infections, and Mycobacterium avium complex (MAC) infections.
Ritonavir Safety in Treatment of HIV
Patients should not take ritonavir with certain medicines, as these can cause serious or life-threatening problems such as irregular heartbeat, breathing difficulties, or excessive sleepiness. Patients should not take ritonavir if they have had a serious allergic reaction to any of its ingredients. Some patients taking ritonavir may develop liver and pancreas problems, which can cause death.
Patients may develop large increases in triglycerides and cholesterol, diabetes, high blood sugar, changes in body fat, increased bleeding in people with hemophilia, allergic reactions, and/or changes in heart rhythm. Patients may develop signs and symptoms of infections that they already have after starting anti-HIV medicines.
For more information, please see the Important Safety Information and full Prescribing Information for ritonavir.
Related organisations
Related people