Nanomedicine to dominate nanobots market in coming years
Novel research shows that nanomedicine and biomedical applications of nanobots will lead the global market between 2021 and 2029.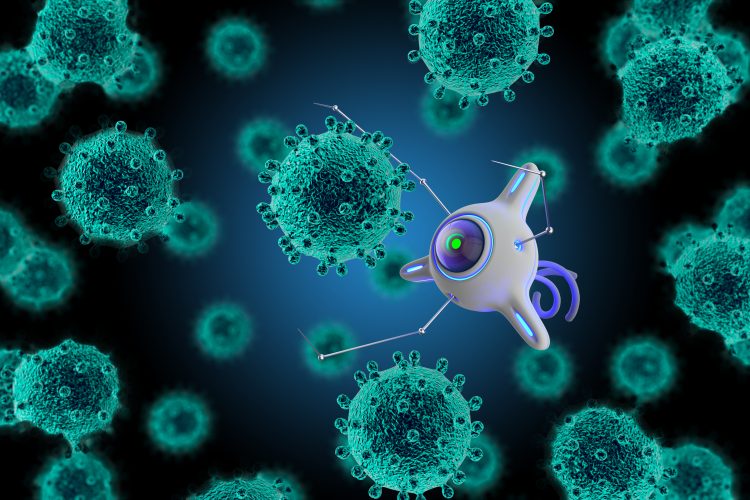 New market research suggests the nanobots market is expected to grow at a compound annual growth rate (CAGR) of more than 25 percent between 2021 and 2029, starting from $121.6 billion in 2020. The same report suggests that the market will be dominated by nanobots used in nanomedical applications, anticipated to account for 35 percent of the market during the forecast period (2021-2029).
Nanobots are just one aspect of the growing field of nanotechnology, they have been developed for a diverse range of applications across a wide variety of industries and fields. According to the research report, reasons for the rapid technological advancement of nanobots include rising government funding for the field; the focus on regenerative medicine and nanotechnology; and rapid expansions in molecular robots.
These nanomachines can sense and be familiarised to environmental stimuli, everything from heat and light to surface texture and chemicals, they can also perform complex calculations, conduct molecular assembly and repair or reproduce themselves to some extent. Many research studies are currently evaluating the applications of nanobots in the treatment of chronic diseases, for instance, in cancer, where the primary aims of nanorobots are to detect and abolish malignant cells as accurately and efficiently as possible. These and many such factors are driving the adoption of nanobots and fuelling the growth of this market.
In the report, the nanobots market is segmented into nanomedicine, biomedical, mechanical and other applications. Overall, nanomedicine is expected to account for more than a third of the market over the forecast period, primarily because there is a large level of commercialisation in the healthcare sector for drug delivery, in vivo imaging, active implants, in vitro diagnostic, biomaterial, and drug therapy. Additionally, suggested the report's analysts, increasing innovations in the field of cancer treatment is also driving growth. The biomedical applications segment accounted for the second-largest market share of the overall nanobots marketplace.
The report stated that North America will hold the largest market share, generating approximately 45 percent of the global market revenue. According to the authors, this dominance is a result of advances in technology, the growing number R&D studies and private sector funding for R&D. Europe is expected to hold the second position in the market based on awareness of nanobots in surgical care. The increasing aging population and rising governmental healthcare expenditure is also expected to drive the demand for nanobots in Europe.
The Asia-Pacific (APAC) region is expected to witness highest CAGR during the forecast period. This high growth is mainly attributed to increasing investments in R&D by major players; improvement in healthcare infrastructure and increasing patient base; and increasing research activities for developing effective cancer treatments. The report states that Japan dominates the APAC market and that emerging countries such as India are expected to grow gradually as certain factors, including inadequate financial investment and shortage of trained staff, negatively impact the growth and adoption of nanobots.
Key nanobot market players mentioned in the report include Xidex Corp., Zymergen Inc., Synthace Limited, Bruker Corporation, JEOL Ltd., Thermo Fisher Scientific, Oxford Instruments, Kleindiek Nanotechnik GmbH, Toronto Nano Instrumentation, Ginkgo Biowork, Advanced Diamond Technologies and Advanced Nano Products Co Limited.
Related organisations
Related diseases & conditions