Amlitelimab shows 80 percent improvement in atopic dermatitis
Late-breaking data highlights the emerging clinical profile of amlitelimab in adults with inadequately controlled atopic dermatitis.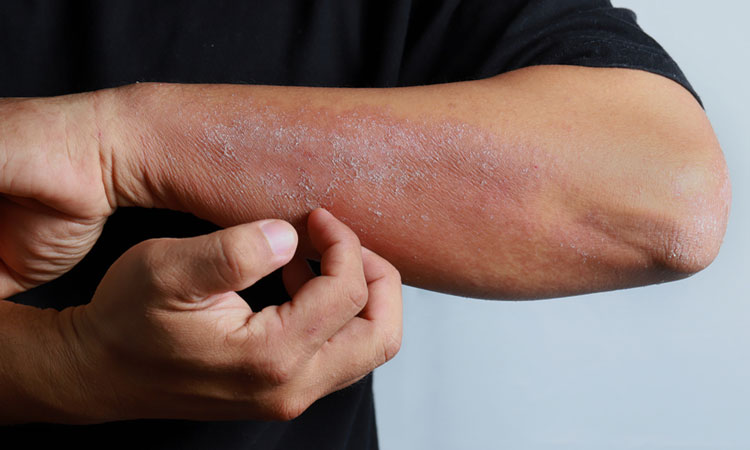 Sanofi have announced positive results from a Phase IIa study evaluating the safety and efficacy of amlitelimab, a human monoclonal antibody targeting key immune system regulator OX40-Ligand, in patients with atopic dermatitis. The data were presented as a late-breaker at the European Academy of Dermatology and Venerology (EADV) 2021 Virtual Congress.
In the study, amlitelimab showed significant improvements in signs and symptoms of moderate-to-severe atopic dermatitis with a well-tolerated safety profile in adults whose disease cannot be adequately controlled with topical medications, or for whom topical medications are not a recommended treatment approach.
Amlitelimab is a fully human non-depleting monoclonal antibody that binds to OX40-Ligand, a key immune regulator, and has the potential to be a first-in-class treatment for a range of immune-mediated diseases and inflammatory disorders, including moderate-to-severe atopic dermatitis. By targeting the OX40-Ligand, the treatment aims to restore immune homeostasis between pro-inflammatory and anti-inflammatory T cells.
In the Phase IIa double-blind, placebo-controlled study, participants were randomised to either intravenous amlitelimab-low dose (LD, n=29), intravenous amlitelimab-high dose (HD, n=30) or placebo (n=29) and were treated every four weeks over a 12-week period. Eligible patients included adults with moderate-to-severe atopic dermatitis whose disease is inadequately controlled with topical therapies such as corticosteroids, or where such therapies were not advisable.
At week 16, the data demonstrated that when dosed every four weeks:
Patients treated with LD showed 80 percent improvement in average Eczema Area and Severity Index (EASI) from baseline and patients treated with HD showed 70 percent improvement in average EASI from baseline, compared to 49 percent for the placebo group. The difference between amlitelimab-LD and placebo was nominally statistically significant
The onset of response versus placebo was seen as early as week two for both groups. No meaningful difference in responses was seen for the LD and HD groups
The overall rate of TEAEs was 35 percent for amlitelimab-LD, 17 percent for amlitelimab-HD and 31 percent for placebo. One serious adverse event (AE) was reported in the amlitelimab-LD group (infected atheroma) deemed related by the investigator at week 16; the event was resolved, and the patient was able to complete the study. No hypersensitivity reactions were reported
Also, at 16 weeks, key secondary endpoint data included:
44 percent of patients treated with amlitelimab-LD and 37 percent of patients treated with amlitelimab-HD achieved a score of 0 (clear) or 1 (almost clear) on the validated Investigator's Global Assessment (vIGA) scale compared to eight percent with placebo. The vIGA is a 5-point scale ranging from 0 (clear) to 4 (severe) that measures the overall severity of skin lesions
59 percent of amlitelimab-LD and 52 percent of amlitelimab-HD patients achieved 75 percent or greater skin improvement (EASI-75) compared to 25 percent with placebo
33 percent of amlitelimab-LD and 30 percent of amlitelimab-HD patients achieved 90 percent or greater skin improvement (EASI-790 compared to 13 percent with placebo
A 60 percent improvement in the amlitelimab-LD group and a 59 percent improvement in the amlitelimab-HD group compared with 37 percent improvement in the placebo group in mean percent change from baseline in SCORing Atopic Dermatitis (SCORAD), a combined measure of area and severity of atopic dermatitis on the skin as well as patient-reported symptoms of itch and sleeplessness
At week 36, 68 percent of patients who achieved a vIGA score of 0 or 1 at week 16 maintained their response – 24 weeks after their last dose.
"In the Phase IIa study presented at EADV, amlitelimab was shown to meaningfully improve the signs and symptoms of atopic dermatitis patients with moderate to severe disease with an unremarkable safety profile," stated Professor Stephan Weidinger at the University Hospital Schleswig-Holstein. "These early results are exciting, and we look forward to seeking confirmatory data in future amlitelimab clinical trials."