Ibrance improves survival in breast cancer patients
Certain breast cancer patients treated with Ibrance (palbociclib) and an aromatase inhibitor were significantly less likely to die than those treated with the inhibitor alone, according to real-world evidence.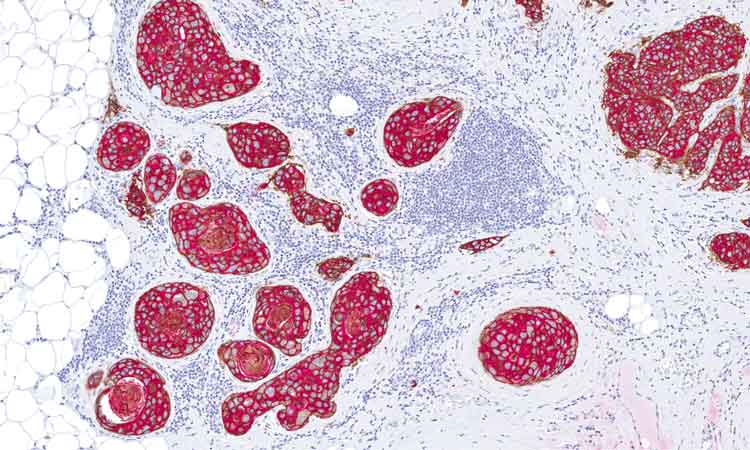 Pfizer has announced real-world evidence demonstrating an associated benefit for patients treated with Ibrance (palbociclib) in combination with an aromatase inhibitor (AI), compared to AI alone, in the first-line setting.
This retrospective cohort study is a large comparative effectiveness study of 2,888 hormone receptor-positive (HR+), human epidermal growth factor receptor 2-negative (HER2-) metastatic breast cancer (mBC) patients evaluating Ibrance in combination with AI compared to AI alone and demonstrated an associated improved overall survival (OS) in post-menopausal women and in men with HR+, HER2- mBC treated in routine clinical practice in the United States.
"Understanding the effectiveness of treatments in a real-world setting is critical to improving cancer care," commented Dr Chris Boshoff, Chief Development Officer, Oncology, Pfizer Global Product Development. "Since its approval, Ibrance has generated promising results for adults diagnosed with HR+, HER2- mBC and this latest analysis reflects Pfizer's commitment to use real-world evidence to complement traditional randomised clinical trials to better understand the effectiveness of Ibrance as a first-line treatment option in combination with an AI for this patient population." 
After balancing for baseline demographic and clinical characteristics, median OS (95 percent CI) was significantly longer in the palbociclib group versus AI group (49.1 [45.2–57.7] versus43.2 [37.6–48.0] months). Real-world median progression-free survival (95 percent CI) was 19.3 (17.5–20.7) versus 13.9 (12.5–15.2) months, respectively, in this observational, retrospective real-world analysis. These findings represent a 24 percent reduction in the risk of death and a 30 percent reduction in the risk of progression. Safety data were not collected as part of this analysis.
"I have witnessed first-hand the positive impact of palbociclib in combination with endocrine therapy in patients with HR+, HER2- metastatic breast cancer," stated Dr Hope S Rugo, lead researcher and professor of medicine at the University of California San Francisco (UCSF) Helen Diller Family Comprehensive Cancer Center, US. "It is encouraging to see associated improved overall survival extend beyond my own practice in the real-world setting and these additional results, along with clinical trial data, may help healthcare providers make more fully informed treatment decisions for their patients."
The poster, 'Overall Survival With First-Line Palbociclib Plus an Aromatase Inhibitor (AI) vs AI in Metastatic Breast Cancer: A Large Real-World Database Analysis' was on display at the ESMO Breast Cancer 2022 Congress.