Bayer tops out new Leverkusen production facility
The new €275 million facility will be used to manufacture medicinal products for cancer and cardiovascular diseases and is scheduled to be ready for operation in 2024.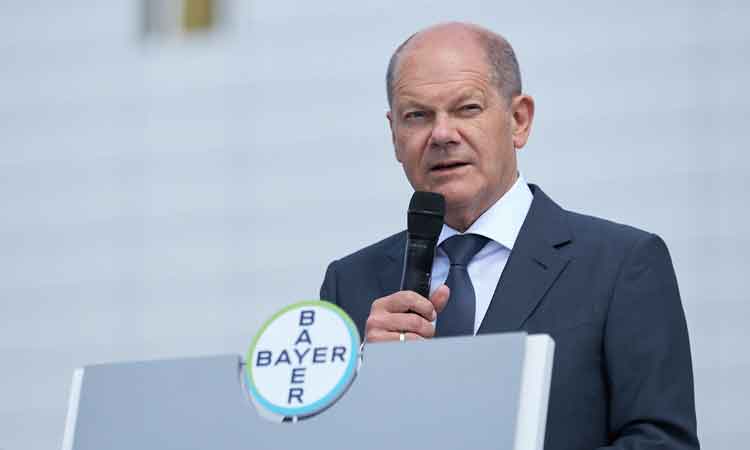 German Chancellor Olaf Scholz at the topping-out ceremony for Bayer's new pharmaceutical production facility in Leverkusen [Credit: Bayer AG].
Bayer AG has celebrated the topping-out of its new pharmaceutical facility in Leverkusen, Germany.
German Federal Chancellor Olaf Scholz, German Minister of Health Professor Dr. Karl Lauterbach and other guests from the worlds of politics and business attended the ceremony.
The new Solida-1 production facility will be one of the most modern pharmaceutical production plants in the world. It is part of a billion-euro investment programme that Bayer is implementing to strengthen its pharmaceutical production network and the company's in-house innovation power.
"The construction of the new Solida-1 production plant will help us ensure that the results of scientific research are transformed into products as quickly as possible, thereby making a lasting improvement to patients' lives," commented Werner Baumann, Chairman of the Board of Management of Bayer AG. "The facility will be used to manufacture medicinal products for the treatment of cancer and cardiovascular diseases, for example."
The plant will be at the heart of the new global Center of Excellence for the production of solid pharmaceutical products at the Leverkusen site. According to the company, it will not only set standards for efficiency, quality, supply security and sustainability, but will also leverage the advantages of digitalisation in a "learning factory" – an environment in which data streams are analysed using artificial intelligence in order to derive action recommendations.
"The investment in the new production plant demonstrates great confidence in the region as a centre of the chemical and pharmaceutical industry," commented Olaf Scholz during his visit to Leverkusen.
The construction of the new €275 million facility is both part of Bayer's Pharmaceuticals strategy and an item on the company's sustainability agenda. Its energy requirements are largely covered by a cutting-edge geothermal plant which reduces CO2 emissions by 70 percent compared to conventional systems.
Looking to the future, the modular construction of Solida-1 facilitates extensions to the facility, to react to future developments in the pharmaceuticals industry.
The single-story facility with a total floor area of approximately 15,000 m2 is scheduled to be ready for operation in 2024.