Roche Group posts strong sales growth in the first quarter
Group sales increase 6% at CER1 to 11.6 billion Swiss francs…

Group sales increase 6% at CER1 to 11.6 billion Swiss francs
Pharmaceuticals sales rise 7% to 9.2 billion Swiss francs, driven by cancer medicines and Tamiflu
Successful launches of Kadcyla and Perjeta strengthen HER2-positive breast cancer franchise
Diagnostics sales rise 1% to 2.4 billion Swiss francs; strong growth in Professional Diagnostics (+5%), decline in Diabetes Care (-5%)
Full-year outlook confirmed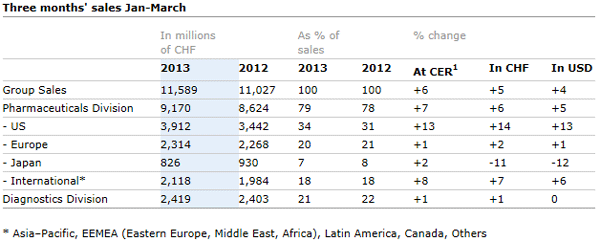 Commenting on the Group's first quarter, Roche CEO Severin Schwan said: "We got off to a very good start in 2013 due to strong organic growth. The launch of two new cancer drugs, Kadcyla in the United States and Perjeta in Europe, will help to further improve our leading market position in oncology. Based on the first-quarter results, I am confident we will meet our full-year targets."
Positive start for 2013
Group sales rose 6% to 11.6 billion Swiss francs as demand for Roche's cancer medicines and clinical laboratory products grew strongly in the first three months of the year. Higher sales of Tamiflu due to a severe flu season in North America also supported Roche's performance in the first quarter.
Roche's pipeline has continued to deliver in 2013. The Group successfully launched new breast cancer medicines Kadcyla in the United States and Perjeta in Europe. Roche also published encouraging results for obinutuzumab (GA101) in chronic lymphocytic leukemia at the start of the year. GA101 is the most advanced blood cancer medicine in Roche's pipeline, and data from the first of four pivotal phase III studies evaluating GA101 will be presented at the 49th Annual Meeting of the American Society of Clinical Oncology (ASCO).
Group sales were particularly dynamic in the United States and emerging markets, while strong demand for Avastin in ovarian cancer led to an increase in Pharma sales in Europe. The rise of the Swiss franc against the Japanese yen by 13 percentage points impacted Group sales in Swiss francs by 1 percentage point.
Pharmaceuticals Division – HER2 franchise boosted by Kadcyla and Perjeta approvals
Sales in the Pharmaceuticals Division rose 7% to 9.2 billion Swiss francs mainly as a result of the oncology portfolio, which grew 10%. The division's performance was also lifted by strong demand for Tamiflu (+84%) due to a severe flu season in North America. The three top-selling cancer medicines were Herceptin (+11%), Avastin (+11%) and MabThera/Rituxan (+6%). A particular highlight was the double-digit sales increase of Avastin as a result of increased use in ovarian cancer and colorectal cancer. Actemra/RoActemra sales also rose strongly (+32%) due to monotherapy use in rheumatoid arthritis. The division's main growth markets were the United States (+13%) and emerging markets2 (+11%), in particular China (+20%).
The HER2 franchise, which now includes Herceptin, Kadcyla and Perjeta, grew by 15% in the first quarter. Approval in the first quarter of Kadcyla in the United States and Perjeta in Europe for patients with HER2-positive breast cancer strengthened Roche's leading position in this indication.
Diagnostics Division – clinical laboratories drive growth
Sales in the Diagnostics Division rose 1% to 2.4 billion Swiss francs as a result of demand for tests and platforms used in clinical laboratories, especially from Roche's Professional Diagnostics (+5%) and Tissue Diagnostics (+7%) businesses. As expected, Diabetes Care (-5%) and Applied Science (-10%) continued to face challenging market conditions. Diabetes Care sales were affected by further reimbursement cuts and intensified pricing pressure. Applied Science sales were lower due to discontinued products and lower research funding.
Sales in Latin America grew by 7%, and sales in Asia–Pacific by 10%, predominantly driven by the strong growth in China (+20%). Sales fell 4% in North America due to the decline in Diabetes Care. In the EMEA region (Europe, Middle East and Africa), which accounts for almost 50% of the division's overall business, sales grew by 1% despite challenging market conditions.
In the first quarter Roche Diagnostics signed four new agreements with external partners to develop companion diagnostic tests for their medicines, adding to the more than 40 existing external partnerships and the more than 200 collaborations with Roche Pharma. These activities underscore the value of reliable and fast diagnostic tests and their importance for drug development.
Full-year targets confirmed
Roche expects Group sales in 2013 to increase in line with last year's sales growth, at constant exchange rates. Core EPS is targeted to grow ahead of sales. In 2013 Roche expects to further increase its dividend.
Click here for more information >>
Related organisations
Related people