Lonza launches 2013-2014 BioResearch Catalog
Diabetes prevention has become a key focus area for the drug development market.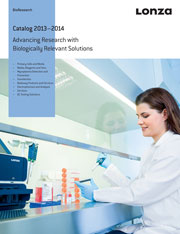 The disease currently affects 366 million people worldwide and is expected to affect 552 million by 2030. With the prevalence of diabetes growing globally, the availability of primary human cells from diabetic donors is critical to increase research and knowledge about the disease at a cellular level. A solution to avoid roadblocks in diabetes research is using Clonetics™ Fresh Human Pancreatic Islets that are presented in Lonza's new BioResearch Catalog. The full 2013-2014 catalog provides information on Primary Cells and Media, Mycoplasma Detection and Prevention, Transfection, BioAssay Products and Services, Electrophoresis and Analysis as well as QC Testing Solutions.
Customers may browse the Flash-Version of the entire BioResearch Catalog and explore their favorite products online, visiting www.lonza.com/catalog.