5 steps to complete confidence in your balance purchase
Whether you work with simple or complex samples, guaranteeing the correct results is important…

Whether you work with simple or complex samples, guaranteeing the correct results is important. By selecting the right balance, installing, using and maintaining it correctly – you'll ensure ongoing accuracy, performance and conformity.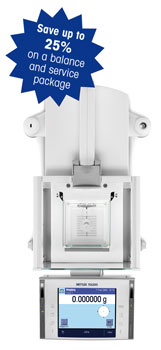 For a limited period only receive 25% off a complete balance package including an Excellence balance, training, CarePac® and service cover. Simply visit www.mt.com/uk-balance-offer.
METTLER TOLEDO's Excellence precision and analytical balances offer innovative applications for everyday weighing tasks including 1-step dosing, connectivity, powder dosing, density measurement and much more.
From simple routine operation to sophisticated weighing procedures, select the right balance and guarantee peace of mind.
For more information or to arrange a product demonstration email [email protected] or call 0116 234 5095.