Live cellular FRET fluorescent protein assay (mTFP-YFP) – No filters needed
When adapting a fluorescent protein assay from a confocal microscope to a microplate format, researchers no longer need filters thanks to new LVF Monochromators™ in the CLARIOstar® microplate reader from BMG LABTECH…

When adapting a fluorescent protein assay from a confocal microscope to a microplate format, researchers no longer need filters thanks to new LVF Monochromators™ in the CLARIOstar® microplate reader from BMG LABTECH.
Filter-Like Performance with New Advanced LVF Monochromators™
There are two options for filtering light into wavelengths when using a microplate reader. Filters offer higher performance thanks to greater light transmission and wider bandwidths; monochromators offer greater flexibility. Past research has stated that monochromators cannot perform many assays, due to the poor performance of monochromator-based readers. The main reason is the need for wider bandwidths, monochromators only have fixed or adjustable bandwidths up to 30 nm.
But this is no longer the case. Realizing the need for a more sensitive monochromator in a plate reader, BMG LABTECH created the CLARIOstar® multimode microplate reader with integrated LVF Monochromators™. With two Linear Variable Filters separated by a linear variable dichroic mirror, the LVF Monochromators™ can filter light into definable wavelengths and bandwidths up to 100nm wide. This means that the CLARIOstar® can measure assays such as BRET, FRET, and fluorescent proteins with high performance and maximum flexibility.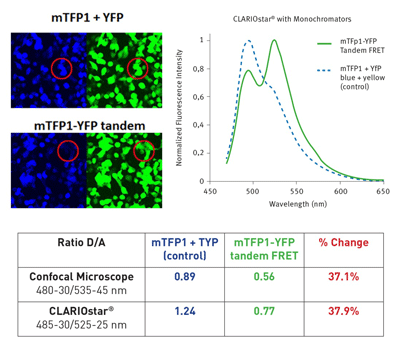 The figure shows an mTFP1-YFP fluorescent protein FRET response in HEK293 cells as measured on a confocal microscope and on the CLARIOstar®. This FRET assay requires the measurement of two emission signals with bandwidths of 30 nm and 45 nm for the microscope 1, which were the starting points for the CLARIOstar®'s LVF MonochromatorsTM. With further optimization, the same percent change is seen, making it an almost seamless transition to a higher throughput method without buying new filters.
References
Padilla-Parra S, et al. Quantitative comparison of different fluorescent protein couples for fast FRET-FLIM acquisition. Biophys J. 2009 Oct; 97(8):2368-76.