Amgen announces positive top-line results from Phase 3 YUKAWA-2 trial of evolocumab
…in combination with statins in Japanese patients with high cardiovascular risk and high cholesterol.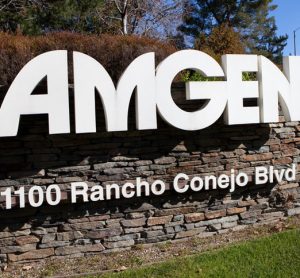 Amgen (NASDAQ:AMGN) today announced that the Phase 3 YUKAWA-2 (StudY of LDL-Cholesterol Reduction Using a Monoclonal PCSK9 Antibody in Japanese Patients With Advanced Cardiovascular Risk) study evaluating evolocumab in combination with statin therapy in Japanese patients with high cardiovascular risk and high cholesterol met its co-primary endpoints: the percent reduction from baseline in low-density lipoprotein cholesterol (LDL-C) at week 12 and the mean percent reduction from baseline in LDL-C at weeks 10 and 12. The percent reduction in LDL-C, or "bad" cholesterol, was clinically meaningful, statistically significant, and consistent with the results observed for the same doses in the Phase 2 YUKAWA trial for evolocumab compared to placebo.1
Evolocumab is an investigational fully human monoclonal antibody that inhibits proprotein convertase subtilisin/kexin type 9 (PCSK9), a protein that reduces the liver's ability to remove LDL-C from the blood.2
The YUKAWA-2 trial evaluated safety, tolerability and efficacy of evolocumab compared to placebo in combination with statin therapy in 404 Japanese patients with high cardiovascular risk and high cholesterol. Patients were randomized to one of eight treatment groups to compare subcutaneous evolocumab (140 mg every two weeks or 420 mg monthly) with subcutaneous placebo (every two weeks or monthly) when added to different daily doses of atorvastatin.
Safety was balanced across treatment groups. The adverse events (AEs) that occurred in > 2 percent of the evolocumab combined group were nasopharyngitis, gastroenteritis and pharyngitis.
"We are encouraged by the evolocumab data from the YUKAWA-2 study in the Japanese patient population and the remarkable consistency we have seen across our clinical program," said Sean E. Harper, M.D., executive vice president of Research and Development at Amgen. "Statins are an important therapy for patients with high cholesterol and adding evolocumab may help lower their LDL cholesterol levels when statins are not sufficient."
Details of the Phase 3 YUKAWA-2 study results will be submitted to a future medical conference and for publication.
High cholesterol is the most common form of dyslipidemia, which is an abnormality of cholesterol and/or fats in the blood.3,4 There are approximately 300 million cases of dyslipidemia in the U.S., Japan and Western Europe.5 According to the Centers for Disease Control and Prevention, more than 71 million American adults have high LDL-C,6 and elevated LDL-C is recognized as a major risk factor for cardiovascular disease.7,8 In Japan, LDL-C levels are not adequately controlled for many high risk patients taking statins, nearly half of which have not reached their LDL-C goal.9-12
References
Hirayama A, Honarpour N, Yoshida M, et al. Effects of Evolocumab (AMG 145), a Monoclonal Antibody to PCSK9, in Hypercholesterolemic, Statin-Treated Japanese Patients at High Cardiovascular Risk. Circ J. 2014;78:1073:1082. https://www.jstage.jst.go.jp/article/circj/advpub/0/advpub_CJ-14-0130/_article
Amgen Data on File, Investigator Brochure.
World Health Organization. Quantifying Selected Major Risks to Health. In: The World Health Report 2002 – Reducing Risks, Promoting Healthy Life. Chapter 4: Geneva: World.
Merck Manuals website. http://www.merckmanuals.com/professional/endocrine_and_metabolic_disorders/lipid_disorders/dyslipidemia.html. Accessed August 2014.
National Institute of Health (2009). Federal Register Volume 74 (250). Washington, DC: U.S. Government Printing Office. http://www.gpo.gov/fdsys/pkg/FR-2009-12-31/html/E9-31072.htm. Accessed August 2014.
CDC Morbidity and Mortality Weekly Report. Vital Signs: Prevalence, Treatment, and Control of High Levels of Low-Density Lipoprotein Cholesterol — United States, 1999–2002 and 2005-2008. February 4, 2011. Available at: http://www.cdc.gov/mmwr/preview/mmwrhtml/mm6004a5.htm?s_cid=mm6004a5_w. Accessed August 2014.
American Heart Association (2012). Why Cholesterol Matters. http://www.heart.org/HEARTORG/Conditions/Cholesterol/WhyCholesterolMatters/Why-Cholesterol-Matters_UCM_001212_Article.jsp. Accessed August 2014.
World Health Organization. Global status report on noncommunicable diseases 2010. Geneva, 2011.
Teramoto T, Sasaki J, Ishibashi S, et al. Executive Summary of the Japan Atherosclerosis Society (JAS) Guidelines for the Diagnosis and Prevention of Atherosclerotic Cardiovascular Diseases in Japan – 2012 version. J Atheroscler Thromb. 2013;20(6):517-523.
Daida H, Miyauchi K, Ogawa H, et al. Management and Two-Year Long-Term Clinical Outcome of Acute Coronary Syndrome in Japan. Circ J. 2013;77:934-943.
Takii T, Yasuda S, Takahashi J, et al. Trends in Acute Myocardial Infarction Incidence and Mortality Over 30 Years in Japan. Circ J. 2010;74:93-100.
Decision Resources. Metabolic Disorders Study Dyslipidemia, 2011.
Related organisations
Related drugs
Related diseases & conditions