METTLER TOLEDO launch new XPE Balance portfolio designed for performance and ease of compliance
Posted: 16 October 2014 |
The new line of XPE balances focuses on delivering accurate, compliant results and provides users with a high level of process security, suitable for even the strictest regulations…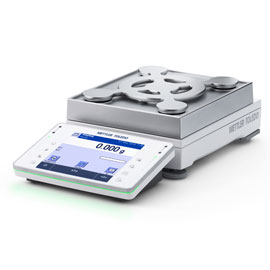 METTLER TOLEDO XPE6003SD5 balance SmartPan 45 degree
METTLER TOLEDO's new line of XPE balances includes micro-analytical, analytical, and precision balances as well as automated dosing with the Quantos powder and liquid dispensing modules. Users can carry out their daily weighing tasks worry free, safe in the knowledge that the new XPE balances deliver consistently reliable and compliant results, thanks to new technologies such as StaticDetect™, SmartPan™ and StatusLight™.
New and innovative product developments focus on making daily weighing tasks easier, error-free and compliant. One of the biggest challenges in analytical and micro-analytical weighing – electrostatic charges – need no longer be a concern thanks to the integrated StaticDetect technology. The innovative SmartPan weighing pan now makes it possible to weigh down to 5 mg readability on a precision balance without the need for a draft shield – with results delivered up to two times faster, even in a fume cupboard. Repeatability has been improved up to two-fold. All balances feature METTLER TOLEDO's new touchscreen terminal; the know-one-know-all interface makes it easy to switch between using different balances as well as other METTLER TOLEDO instruments. The built-in StatusLight at the front of the terminal uses color to indicate intuitively when the balance is ready for weighing tasks to begin. METTLER TOLEDO's LabX Laboratory Software has also been updated to work with StaticDetect and StatusLight, as well as support new RFID capabilities.
Through normal handling, containers and samples can become electrostatically charged, leading to weighing errors. XPE micro-analytical and analytical balances incorporate revolutionary technology which analyzes the weighing signal to determine the weighing error caused by electrostatic charges. If this error exceeds the user-defined limit, the blue StaticDetect light is illuminated and the expected error is indicated on the balance display. Antistatic measures can then be employed.
Building on the proven technology of the SmartGrid weighing pan on micro-analytical and analytical balances, small platform precision balances feature the new SmartPan weighing pan and demonstrate up to two times faster stabilization times and a two-fold improvement in repeatability – even in the turbulent environment of a fume cupboard. Minimum weights can also be significantly improved – particularly useful when working with expensive or toxic substances. In addition, SmartPan dismantles easily. The built-in tray underneath keeps spilled substances contained for safe disposal and easy cleaning, protecting the inside of the balance as well as safeguarding users from contact with hazardous substances.
Managing routine balance testing is simplified, owing to the built-in TestManager software. Customer and application specific balance testing schedules are easily implemented in the software and users are conveniently prompted whenever a test is due; for high process security, users can opt for the balance to be blocked automatically if balance tests are not satisfactorily completed. StatusLight works in conjunction with the TestManager. When all balance tests are up to date, the balance is level and all functional tests are satisfied, StatusLight uses a green light to indicate at a glance that weighing processes can be carried out securely. Warnings are shown with yellow and errors are red.
XPE balances have also been designed with flexibility in mind. As individual needs grow and change, it's easy to adapt XPE balances over time through the addition of accessories, extra peripheral devices, LabX Laboratory Software and even Quantos dosing modules. In this respect, XPE balances offer users a sustainable investment by meeting their weighing needs not only of today but also for many years to come.
To see the full product range, please visit www.mt.com/balances
Related topics
Related organisations