BIOSTAT® A – Professional entry-level solution for cell culture and microbial fermentation
With its new BIOSTAT A, Sartorius Stedim Biotech presents a compact bioreactor | fermenter designed specifically as an entry-level model for fermentation and cell culture as well as for educational purposes…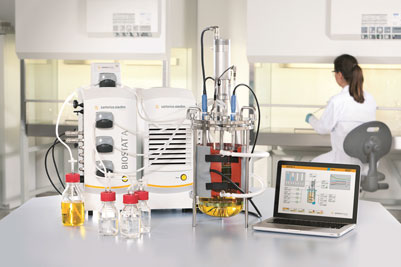 New bioreactor BIOSTAT A: specifically designed as an entry-level model for fermentation and cell culture purposes
With its new BIOSTAT A, Sartorius Stedim Biotech presents a compact bioreactor | fermenter designed specifically as an entry-level model for fermentation and cell culture as well as for educational purposes. The system's control tower features a complete array of measurement and control functions like easy-load peristaltic pumps, an aeration module and conveniently accessible probe ports and supply connections. By virtue of its compact design, this new fermenter | bioreactor saves valuable space in your lab.
The aeration system provides automatic flow control over the full range of each gas used. As a result, BIOSTAT A does not require any manual adjustment of flow meters and therefore eliminates problems with pulsed aeration. The system is very easy to operate: all the user has to do is connect the aeration hoses, configure the aeration profile and enter the DO setpoint. Using the BIOSTAT A version for cell culture applications, aeration with four gases (air, O2, CO2 and N2) is possible for controlling pH and DO. The microbial version features two gas lines (air and O2) for DO control.
The bioreactor is equipped with digital pH and DO probes. These help users immediately recognize whether you can confidently use a probe for the next cultivation process. Thanks to the moisture-resistant plug connection, secure data transmission is also always assured.
Each BIOSTAT A for microbial fermentations is equipped with a chiller that effectively removes heat from the device. This reduces your cooling water consumption and your laboratory does not need to be equipped with a cooling water system. All the user needs to operate the system is electricity and a gas supply.
Thanks to the intuitive user interface, operating the new bioreactor is ideal for beginners because it prevents operating errors and reduces training time to a minimum. Optional operation with a tablet or smartphone allows to monitor and control the system, whether you're on the go, in the lab, in the office or even at home.
The bioreactor is available with various single-walled borosilicate glass culture vessels with maximum working volumes of 1, 2 or 5 liters. In addition to the UniVessel made of glass, the UniVessel SU disposable bioreactor can also be operated with the same control tower and offers a maximum working volume of 2 liters.