3DPRG at The University of Nottingham has unveiled its new lab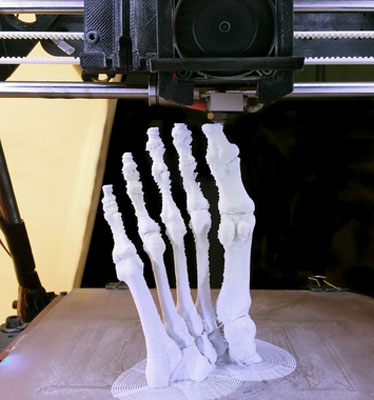 As part of the group's overall investment in pioneering scientific research for additive manufacturing, the lab is dedicated to research and testing of new materials for 3D Printing and their practical applications, alongside exciting developments in multifunctional 3D printing.
The new equipment in the lab is funded by the Engineering and Physical Sciences Research Council (EPSRC) and features a new suite of analytical equipment and £2.7m of bespoke additive manufacturing machines found nowhere else in the world. 3DPRG has also teamed up with the University's School of Pharmacy to research new mechanisms combining additive manufacturing and drug development and delivery, including personalised dosages and customised drug implants.
Complementing this investment, 3DPRG has launched a spin-out consulting company, Added Scientific. This new enterprise is focused on enabling businesses and industry to maximise the impact of additive manufacturing to their organisation and products.  It combines 3DPRG's technological expertise in 3D Printing materials, processes and design/design systems to work with businesses to explore real-world applications of 3D printing across sectors including pharma, nanotechnology and medicine.
3DPRG aim to make 3D printed pharmaceuticals a safe, viable and cost-effective reality
"This new lab and Added Scientific represent a huge step forward in additive manufacturing research and development. We aren't about printing just shapes or creating objects for their own sake, but about using science and engineering to find new ways to apply additive manufacturing to the real world," said Professor Richard Hague who leads 3DPRG and is Director of the University's EPSRC Centre for Innovative Manufacturing in Additive Manufacturing. "The state-of-the-art equipment in our new lab will allow us to refine the process of multi-functional 3D printing, working with research organisations and industry partners to make 3D printed electronics, pharmaceuticals and conductive materials a safe, viable and cost-effective reality."
The new lab's flagship machines include:
A bespoke PiXDRO JETx six head ink jetting system that can print structural and functional materials (such as electronic circuits/components for circuit boards) in one go, using up to six different materials at once including metallic and ceramic loaded 'inks' as well as a variety of reactive polymers.  The machine will also be used to research and test '3D printed drugs', combining the exact dosage of each ingredient into every individual pill, capsule or vaccine based on an individual's requirements.
A two-photon lithography system which is capable of printing polymer-based 3D objects with heights from a few hundred nanometres up to the mesoscale. This machine will be used in the lab for industrial applications such as printing and replicating micro-lenses as well as for medical research.