10th annual Cold Chain Distribution Conference and Exhibition
This year's Cold Chain Distribution is the must attend event providing hours of networking with your peers, where you will hear case studies, presentations and round table discussions on the key issues…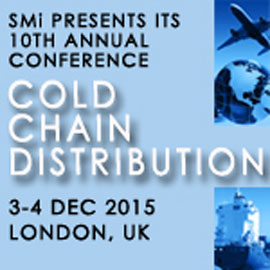 This year's Cold Chain Distribution is the must attend event providing hours of networking with your peers, where you will hear case studies, presentations and round table discussions on the key issues surrounding the global healthcare cold chain distribution process and logistic requirements for various temperature-sensitive healthcare products.
Last year's conference was sold out – make sure you register as soon as possible to secure your seat! 
Event website: http://www.coldchain-distribution.com/EPR  
First 20 pharma companies to register receive a special £899 rate. Subject to availability.
Benefits of Attending Cold Chain Distribution 2015:
LISTEN to case study scenario based presentations assessing the challenges faced in cold chain distribution and what strategies are being implemented in the attempt to secure better practices in the pharma distribution environment
HEAR the latest on the advances in real time data logging in addition to temperature mapping of routes and monitoring.
REVIEW the GDP compliance regulations and lessons learned from audits to maintain standards
DISCUSS bridging the gap between pharma and logistics companies and managing expectation and requirements from one another in the partnership
Unrivalled speaker line up for 2015 includes:
Alexander Bardenstein, Technical Manager, R&D Coordinator, Packaging Section, Danish Technological Institute
Bob Hayes, Director, Seer Pharma
David Spillett, Key Account Director, World Courier
Hasan Jabarti, Head of Quality Assurance, Novartis
Michelle Arnot-Kruger, Cold Chain & Logistics, UNICEF
Oliver Kirby, International Transportation and Cold Chain Leader, Shire Pharmaceuticals
Thomas Grubb, Manager, Cold Chain Strategy, American Airlines
Tony Wright, Managing Director, Exelsius Cold Chain Management
Marc Sotty, Distribution operations WW & Trial Supplies Operation Manager, Sanofi R&D
Mark Edwards, Managing Director, Modalis
Lead Sponsor – World Courier.
Sponsored by: American Airlines Cargo, Berlinger, Eberspacher, ELPRO and Testo