Ramucirumab improves progression-free survival in bladder cancer trial
Posted: 28 September 2015 |
Median progression-free survival was 5.4 months on the ramucirumab-docetaxel arm as compared to 2.8 months for patients treated with docetaxel alone…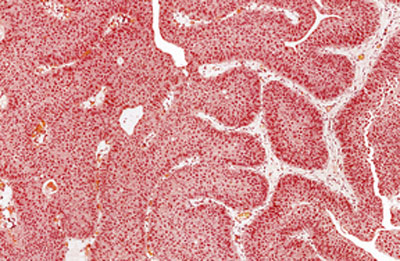 A Phase II study of Lilly's Cyramza (ramucirumab) in combination with docetaxel met its primary endpoint, demonstrating a statistically significant increase in progression-free survival (PFS) for patients with locally advanced or metastatic urothelial carcinoma who failed prior platinum-based therapy.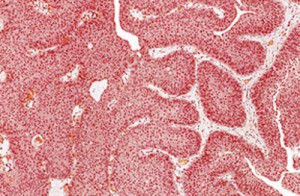 "We are encouraged with these promising findings that could help lead to much-needed progress in this area – people with advanced urothelial carcinoma have limited treatment options today," said Daniel Petrylak, M.D., professor of medicine (medical oncology) and of urology at Yale University Cancer Centre and the study's principal investigator. "This is an aggressive type of cancer and unfortunately, despite available first-line therapies, most patients who have disease progression eventually succumb to their disease."
The three-arm trial evaluated 140 patients with advanced carcinoma of the urothelial tract (bladder, urethra, ureter, or renal pelvis) who, after a first-line platinum-based chemotherapy regimen, had relapsed up to one year following the initial treatment. Patients were randomised to receive either a combination of ramucirumab and docetaxel, docetaxel alone, or a combination of icrucumab and docetaxel.
Median PFS, the study's primary endpoint, was 5.4 months on the ramucirumab-docetaxel arm as compared to 2.8 months for patients treated with docetaxel alone, and 1.6 months for those treated with icrucumab and docetaxel. Objective response rate (ORR) results also favoured the ramucirumab combination arm. A statistically significant benefit in disease control rate was identified on the ramucirumab arm. While the study was not powered for overall survival (OS), results favoured the ramucirumab combination arm, but were not statistically significant.
Lilly has started enrolling patients in a Phase III trial of ramucirumab
Based on the findings, Lilly recently initiated a Phase III trial called RANGE, which has begun to enrol patients. The RANGE study is a randomised, double-blind, placebo-controlled study of ramucirumab and docetaxel versus placebo and docetaxel in patients with locally advanced or unresectable metastatic urothelial carcinoma whose disease progressed on or after platinum-based chemotherapy.
"We are pleased to advance this Cyramza regimen into Phase III clinical development and look forward to that trial's results," said Richard Gaynor, M.D., senior vice president, product development and medical affairs for Lilly Oncology.
Related organisations
Related drugs
Related diseases & conditions