Pfizer and Allergan agree mega merger
Posted: 23 November 2015 |
The combined company, to be named Pfizer plc, will be the biggest drug maker in the world by sales…

Pfizer and Allergan have announced that they are to merge with Pfizer agreeing to pay $160 billion for Allergan.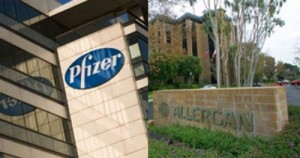 "The proposed combination of Pfizer and Allergan will create a leading global pharmaceutical company with the strength to research, discover and deliver more medicines and therapies to more people around the world," stated Ian Read, Chairman and Chief Executive Officer, Pfizer. "Allergan's businesses align with and enhance Pfizer's businesses, creating best-in-class, sustainable, innovative and established businesses that are poised for growth. Through this combination, Pfizer will have greater financial flexibility that will facilitate our continued discovery and development of new innovative medicines for patients, direct return of capital to shareholders, and continued investment in the United States, while also enabling our pursuit of business development opportunities on a more competitive footing within our industry."
"The combination of Allergan and Pfizer is a highly strategic, value-enhancing transaction that brings together two biopharma powerhouses to change lives for the better," said Brent Saunders, Chief Executive Officer, Allergan. "This bold action is the next chapter in the successful transformation of Allergan allowing us to operate with greater resources at a much bigger scale. Joining forces with Pfizer matches our leading products in seven high growth therapeutic areas and our robust R&D pipeline with Pfizer's leading innovative and established businesses, vast global footprint and strength in discovery and development research to create a new biopharma leader."
Pfizer plc will maintain Allergan's Irish legal domicile
Under the terms of the proposed transaction, the businesses of Pfizer and Allergan will be combined under Allergan plc, which will be renamed "Pfizer plc". The companies expect that shares of the combined company will be listed on the New York Stock Exchange and trade under the "PFE" ticker. Upon the closing of the transaction, the combined company is expected to maintain Allergan's Irish legal domicile. As such, the merged company will benefit from lower corporate tax (12.5 percent in Ireland versus 35 percent in the US). Pfizer plc will have its global operational headquarters in New York and its principal executive offices in Ireland. 
Rae Ellingham, Research Analyst, Charles Stanley, commented on the taxation benefits that will come with the merged company maintaining Allergan's Irish legal domicile: "Pfizer has announced that it has agreed a $160 billion deal to acquire Allergan plc, a deal which is likely to be largely driven by taxation benefits, with the US corporate tax at 35 percent versus Ireland's 12.5 percent.  The deal looks set to go ahead despite US Treasury opposition and the introduction of new rules designed to prevent tax inversion where a company relocates its legal domicile to a lower tax nation.
"Rules aimed at preventing inversions were first tightened after Pfizer bid for AstraZeneca back in 2014 and played a large part in AbbVie's withdrawal of a $54 billion offer for Shire.  Should the Pfizer Allergan deal go ahead we would expect that tax inversion rules may be tightened even further and potentially new legislation introduced.
"If any other US companies have had their eye on Shire, domiciled in Ireland like Allergan, it would pay for them to move quickly.  Shire can only have become a more attractive takeover target, post the 20% fall in its share price following the Group's announcement of its intention to pursue US Baxalta Inc."
Senator Bernie Sanders condemned the merger, saying, "The Pfizer-Allergan merger would be a disaster for American consumers who already pay the highest prices in the world for prescription drugs. It also would allow another major American corporation to hide its profits overseas. The Obama administration has the authority to stop this merger, and it should exercise that authority. Congress also must pass real tax reform that demands that profitable corporations pay their fair share of taxes."
Hidden risks
With the addition of Allergan, Pfizer will enhance its R&D capabilities in both new molecular entities and product line extensions. A combined pipeline of more than 100 mid-to-late stage programmes in development and greater resources to invest in R&D and manufacturing is expected to sustain the growth of the innovative business over the long term. The combination of Pfizer and Allergan will also significantly increase the scale of Pfizer's established business, and their complementary capabilities will maximise the combined established portfolio. 
Commenting on today's announcement, Paul Heugh, CEO, Skarbek Associates, a strategy-consultancy that specialises in pharma and M&A integration, highlighted the hidden risks that accompany large mergers:  "Synergies carry all sorts of hidden risks that are rarely considered sufficiently and most often not priced into the deal. This problem only intensifies with the intoxicating hype that surrounds these big-ticket tie-ups.
"Important consequences like the reduction in focus on day-to-day business operations, the drop in morale and engagement, and with inevitable redundancies, the loss of vital knowledge about operations, the market, competitors and lessons learned are so often unpriced and unaccounted for in pharmaceutical mergers.
"It will be critical to understand the growth synergy plans for each of the underlying businesses and how these growth plans will be executed and delivered.
"When two big and proud brands come together, as with Allergan and Pfizer, they must also manage the difficult process of finding a new identity from a blend of the two corporate cultures. This adoption of a new cultural and social identity is essential to the financial success of the merger but very often inadequately understood and addressed."