MIURA GO-xHT most powerful clean-up system for dioxins and PCBs
Less solvent consumption, no cross contamination / Can be combined with Shimadzu's GCMS-TQ8040 triple quadrupole / Both fulfill new EU 589/2014 regulation on analyzing dioxins and PCBs samples…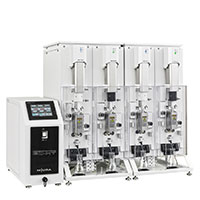 Shimadzu, one of the world leaders in analytical instrumentation, has introduced the revolutionary GO-xHT clean-up system from MIURA Institute of Environmental Science. Shimadzu is the official distributor in Europe for introduction of the Go-xHT system. Both entities have partnered to offer the most powerful solution for clean-up on the Euro¬pean market. The GO-xHT targets dioxins and PCBs (polychlorinated biphenyl) analyses of food and feedstuff.
The new MIURA automated clean-up system offers high throughput capacity with the additional benefit of saving solvents while eliminating cross contamination. It provides labs with a high quality extraction as well as high Return On Investment (ROI) thanks to an innovative flow path system.
Less solvent consumption, no cross contamination
Much faster delivery of 1 mL extracts combines with a consumption of less than 100 mL of solvent per sample. It uses only 85 mL of hexane as well as 2 mL of toluene and no dichloromethane. This is both user and eco-friendly.
The valveless system eliminates solenoid valves on the Dioxins and PCBs flow lines – the system brings no cross contamination into your analysis. All columns and tubings are disposable with easy connections.
Three GO-xHT versions are available with 2, 4 or 6 columns in parallel. The system can be purchased as a single solution or in package with Shimadzu's GCMS-TQ8040 triple quad¬rupole. It combines highly efficient sample throughput, quick and easy method devel¬opment, low detection limits and Scan/MRM. The GCMS-TQ8040 provides the most accurate, cost effective and easy-to-use triple quadrupole GC-MS.
Fulfills the new EU 589/2014 regulation
The combination of GO-xHT clean-up system and the GCMS-TQ8040 triple quadrupole fulfills the new EU 589/2014 regulation on analyzing of dioxins and PCBs samples.