Quotient Clinical incorporates Japanese bridging into a Translational Pharmaceutics® program
Quotient Clinical has announced the completion of its first clinical program involving Japanese healthy volunteers…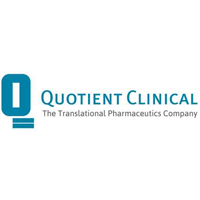 Quotient Clinical, the Translational Pharmaceutics company, has announced the completion of its first clinical program involving Japanese healthy volunteers.
The Japanese market is one of the leading pharmaceutical markets worldwide, and bridging studies conducted outside of Japan ensure that drugs that are to be marketed in Japan have been thoroughly evaluated in the Japanese population.
This program of work was a first-in-human investigation, performed on behalf of a US sponsor, and comprised an integrated four part clinical study designed to evaluate the safety, tolerability, pharmacokinetics, and pharmacodynamics of a new drug candidate targeting an important orphan disease.
The program was delivered using Quotient's Translational Pharmaceutics® platform, which integrates formulation development, real-time GMP manufacturing and clinical testing, allowing the drug product to be adapted in real-time, based on emerging clinical data. The inclusion of first generation Japanese volunteers into one part of the study accelerated the transition into downstream clinical trials in Japan.
Ian Nisbet, VP Clinical Operations, said "We are delighted to extend our core Translational Pharmaceutics services to now include Japanese volunteers. Recruitment was undertaken in partnership with UK Chiken Services Ltd, an experienced company which specialises in Japanese volunteer recruitment. All cohorts were dosed on time and in full."