AstraZeneca reports new data for osimertinib in NSCLC
AstraZeneca has reported new Phase I extended follow-up data on osimertinib in both first- and second-line treatment of patients with non-small cell lung cancer (NSCLC).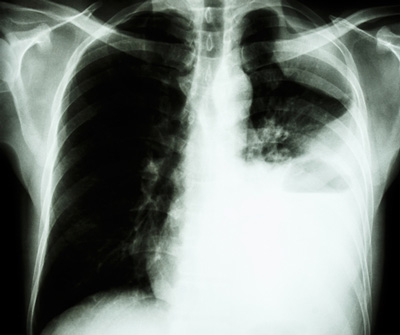 The data the efficacy and safety profile for osimertinib previously seen in the AURA clinical trials programme.
Phase I data from the AURA trial on osimertinib investigated as first-line treatment in 60 patients (pooled 80mg and 160mg dose cohorts) with epidermal growth factor receptor (EGFR) mutation-positive advanced NSCLC showed an objective response rate (ORR, a measurement of tumour shrinkage) of 77% and a progression-free survival (PFS) of 19.3 months, with 55% of patients remaining progression-free at 18 months. Median duration of response (DoR) was non-calculable (NC) at the time of data cut off, with 53% of patients continuing to respond at 18 months. Of the 60 first-line patients, five had tumours also harbouring the T790M mutation at diagnosis (known as de novo patients) and all five of these patients showed durable responses. The most common adverse events were rash, diarrhoea, dry skin and paronychia. All of the Grade 3 or above events in these categories occurred at the 160mg dose.
Commenting on the data from the Phase I study, Klaus Edvardsen, Vice President, Clinical Oncology and Interim Head of Oncology, Global Medicines Development at AstraZeneca, said: "In a Phase I study with osimertinib as first-line therapy in EGFR-mutation positive NSCLC, we are seeing consistently durable responses. In many cases, responses continue for at least 18 months including in a small group of patients with the T790M mutation detectable at diagnosis. The ongoing Phase III FLAURA trial will further characterise the potential of osimertinib 80mg in the first-line EGFRm setting."
Updated pooled results from AURA Phase II studies
Updated pooled results from AURA Phase II studies in 411 pre-treated patients with EGFR T790M mutation-positive NSCLC treated with osimertinib 80mg showed a median PFS of 11 months, an ORR of 66% and a median DoR of 12.5 months2 Pooled treatment-related adverse events data from the AURA Phase II studies included rash, diarrhoea, dry skin and paronychia. Interstitial lung disease was seen in 12 patients, hyperglycaemia in 1 patient and QT prolongation in 14 patients.
Osimertinib recently received accelerated approval as the first indicated treatment for patients with EGFR T790M mutation-positive metastatic NSCLC in the US, EU and Japan. The ongoing confirmatory Phase III trial, AURA3, is assessing the efficacy and safety of osimertinib versus platinum-based doublet chemotherapy in patients with EGFR T790M mutation-positive, locally advanced, or metastatic NSCLC who have progressed following prior therapy with an EGFR-TKI.