Pall Life Sciences Launches Commercial Cadence Acoustic Separator for Intensified Bioprocess Clarification and Purification Applications
The Cadence Acoustic Separator applies acoustic wave separation technology in a single-use format for the clarification of cell culture bioprocess fluids…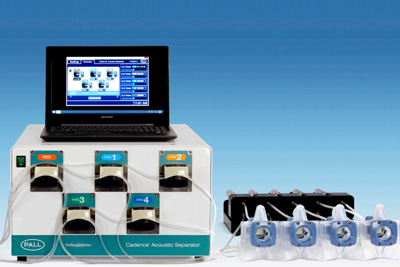 Pall Life Sciences Biopharmaceutical division of global filtration, separation, and purification leader Pall Corporation, is pleased to announce the commercial launch of the CadenceTM Acoustic Separator (CAS), which applies acoustic wave separation technology in a novel single-use format for the clarification of cell culture bioprocess fluids.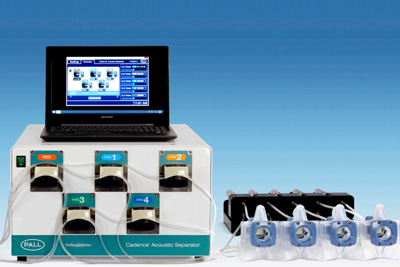 The CAS delivers robust, reliable cell and protein yields in a closed system without centrifugation, while drastically reducing user cost and risk. The CAS is available for immediate ordering and shipment, and has also been designed to be easily integrated with other Pall Life Sciences products to enable continuous bioprocessing.
"We launched our continuous processing vision at the end of 2015, introducing the concept of acoustic wave separation technology as an enabling tool for customers to bridge the critical gap between the bioreactor and the downstream processing train. We have now brought that concept to fruition with the commercial launch of the CAS as the first in a series of product launches that enable continuous bioprocessing," said Vice President and General Manager of Biopharmaceuticals, Michael Egholm, Ph.D. "The CAS technology is truly revolutionary, eliminating reliance on centrifugation for cell culture clarification, reducing buffer requirements by around 75%, and creating a continuous feed stream for direct integration with our full portfolio."
Pall Life Sciences obtained an exclusive license to acoustic wave separation technology in June 2015 from FloDesign Sonics (FDS). The CAS works via acoustic forces that are applied across a countercurrent flow of bioprocess fluid, generating three-dimensional standing waves that trap cells at their nodes. This leads to aggregation and precipitation from suspension, thereby "trapping" the cells for simple extraction. The CAS is capable of clarifying many types of biologic products, including recombinant therapeutic proteins and monoclonal antibodies, regardless of the variability in particulate concentrations and cell culture density, turbidity and viability.
The CAS is part of the  Cadence product portfolio, which features enabling technologies for key unit operations required in the continuous production of monoclonal antibodies and other recombinant proteins. The Cadence portfolio leverages the benefits of single-use technologies to feature integrated, end to end biomanufacturing solutions that increase productivity and decrease risk for customers.
To learn more about the CAS, or to see it is action, visit the following links:
CAS Video: https://www.youtube.com/watch?v=YOr7AGGx3MI
Pall Life Sciences Continuous Portfolio: http://www.pall.com/main/biopharmaceuticals/continuous
Dr. Michael Egholm on Continuous Processing: https://www.youtube.com/watch?v=_tY_4NemRLU
The CAS will be on display in New York, NY at INTERPHEX this week from April 26 to 28 in booth 2815. It will be featured amongst a host of enabling Pall Life Sciences technologies at the booth, and is the subject of many talks during the show. Find the team's full INTERPHEX agenda here: http://www.pall.com/main/about-us/event-details.page?id=20160203112651
Related topics
Related organisations