The vascular remodelling effects of eribulin in advanced breast cancer
Newly published data validate the distinct vascular remodelling activity of Halaven (eribulin) compared to bevacizumab in breast tumour tissue…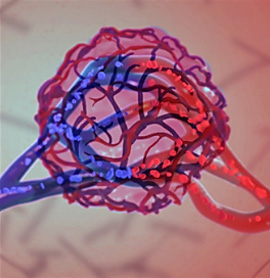 Newly published data validate the distinct vascular remodelling activity of Eisai's Halaven (eribulin) compared to bevacizumab in breast tumour tissue.
Optical imaging techniques for haemodynamic analysis and blood tests for biomarker analysis show that eribulin increases the oxygen saturation of breast tumour tissue and suppresses TGF-b1, a driver of cancer progression associated with poor outcomes for women with advanced breast cancer.
"This research sheds light on the biology of vascular remodelling and oxygenation response to eribulin. Contrary to normal cells, cancer cells thrive in a deoxygenated environment. These data show that eribulin is able to increase the density of tiny blood vessels and supply of oxygenated blood to breast cancer tissue. This has the potential to reduce the risk of cancer spreading as the cancer cells can no longer thrive in this environment," comments Shigeto Ueda, Department of Breast Oncology, International Medical Centre, Saitama Medical University, Saitama, Japan.
Haemodynamic analysis shows that oxygen saturation levels increase on day seven after treatment with eribulin while deoxy-haemoglobin concentrations decrease. This trend was not observed for bevacizumab. There was no change in oxygen saturation at day seven, but instead a significant decrease in the concentration of oxy-haemoglobin for bevacizumab.
Decrease in blood TGF-β1 concentrations
Results of the biomarker analyses show that both eribulin and bevacizumab decrease blood concentrations of VEGF and bFGF. A significant decrease in blood TGF-β1 concentrations is seen in patients treated with eribulin but not bevacizumab. These findings clearly indicate that the mechanism of action of these two agents differs.
In the study, women with Stage 3/4 breast cancer were assigned either eribulin or single-agent bevacizumab. To determine the change in the oxygenated breast tumour tissue, concentrations of oxy-haemoglobin, deoxy-haemoglobin and oxygen saturation were measured using Diffuse optical spectroscopic imaging (DOSI), prior to and seven days after the first infusion. Blood samples were collected for biomarker studies (VEGF, bFGF, and TGF-β1).
"Scientific research and innovation is very important to Eisai. It affords a greater understanding of our treatments and allows us to better serve people living with cancer. These results are of particular importance to us as they help us better understand how eribulin works and the benefit it may offer to women with advanced breast cancer," commented Gary Hendler, Chief Commercial Officer Oncology Business Group, Chairman and CEO EMEA.
Related organisations
Related diseases & conditions