sd ≤ 1d weighing faster than you think 2-point adjustment system
Brand new adjustment system guarantees the highest measurement accuracy…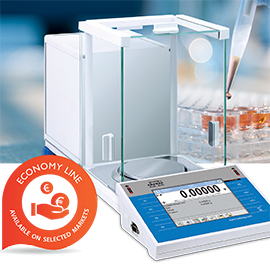 Innovative 2-point adjustment system
Brand new adjustment system guarantees the highest measurement accuracy. It minimizes linearity errors simultaneously providing reliable indications for the whole weighing range.
Faster measurement with the new CPU
4Y balances feature Dual Core 2 x 1 GB processor which delivers noticeable performance improvements including faster operation and shorter stabilization time retaining high repeatability values.
Monitoring and elimination of electrostatics
Installation of an additional deionizer module in a weighing chamber facilitates automatic detection and elimination of electrostatics effect to which both, sample and container intended for measurement may be subjected.
8 GB RAM – more data management possibilities
8 GB RAM offers possibility of recording data in a form of complex reports. Time and statistic data diagrams on series of weighments are another useful option.
The best possible repeatability and USP regulations conformity
The best weighing accuracy and repeatability – with sd ≤ 1d combined with USP regulations conformity (Section 41 and 1251) make 4Y balances a new standard for mass measurement quality.
Ergonomics and safety
Wireless communication between balance terminal and a weighing unit make it possible to comfortably operate 4Y series balances in laminar air flow cabinets and fume cupboards.
Data safety
Every single 4Y balance features ALIBI memory designed to provide protection and automatic recording of your measurements. Options such as data preview, copying and archiving are also available to users.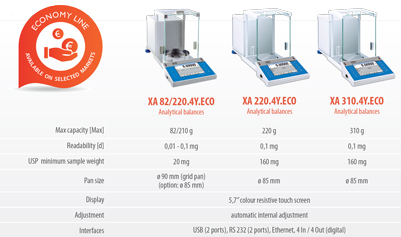 Related topics
Related organisations