Expanded Phase II trial of savolitinib in NSCLC starts
A Phase II expansion of the ongoing TATTON trial has been initiated to evaluate savolitinib (AZD6094) in epidermal growth factor receptor (EGFR) mutant non-small cell lung cancer (NSCLC) patients.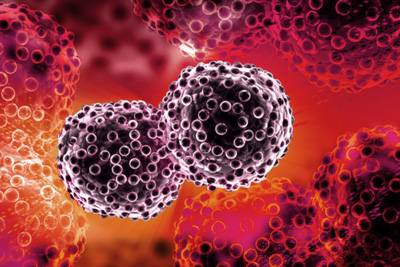 Savolitinib is a potential global first-in-class inhibitor of c-Met (also known as mesenchymal epithelial transition factor) receptor tyrosine kinase, an enzyme which has been shown to function abnormally in many types of solid tumours.
The trial is a single-arm global Phase II study of savolitinib in combination with Tagrisso (osimertinib/AZD9291) in advanced NSCLC patients who have developed resistance to approved EGFR tyrosine kinase inhibitors (TKIs). This expansion was initiated following encouraging early data from a number of patients enrolled in the TATTON study who received savolitinib in combination with Tagrisso.
Trial expansion triggers milestone payment
The initiation of the expanded Phase II study has triggered a US$10 million milestone payment to Hutchison MediPharma Limited (HMP) (a 99.8% held subsidiary of Chi-Med) under the terms of the agreement with AstraZeneca signed in December 2011. HMP and AstraZeneca are conducting Phase II studies in NSCLC with savolitinib in monotherapy, as well as in combination with either AstraZeneca's Tagrisso or Iressa (gefitinib). AstraZeneca continues to lead and invest in the global NSCLC development programme for savolitinib.
Commenting on the trial expansion, Susan Galbraith, Senior Vice President, Head of Oncology Innovative Medicines, AstraZeneca, said: "Savolitinib is a highly selective c-Met inhibitor that is being investigated in a number of cancers including in patients with lung cancer whose disease is driven by aberrant c-Met / HGF signaling. We are extremely excited by the data we have seen for savolitinib when used in combination with our EGFR tyrosine kinase inhibitors."
Christian Hogg, Chief Executive Officer of Chi-Med, added: "We believe that savolitinib either as a monotherapy in first-line NSCLC, or in proprietary combinations with AstraZeneca's Iressa and Tagrisso in second- and third-line NSCLC, will address the key genetic drivers of cancer cell proliferation in these very difficult-to-treat NSCLC patients. We are hopeful about proceeding into Phase III in 2017 based on future data from this study."