EC grants marketing authorisation to Odefsey in HIV
The EC has granted marketing authorisation for Gilead's once-daily single tablet regimen Odefsey for the treatment of HIV-1 infection in certain patients…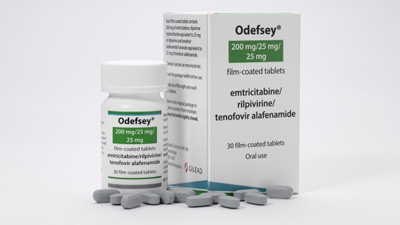 The European Commission has granted marketing authorisation for Gilead's once-daily single tablet regimen (STR) Odefsey (emtricitabine 200 mg/rilpivirine 25 mg/tenofovir alafenamide 25 mg or R/F/TAF) for the treatment of HIV-1 infection in certain patients.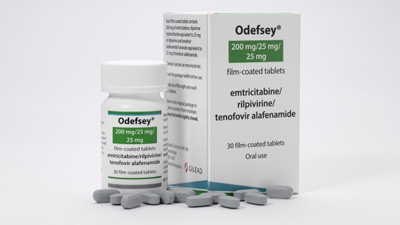 Odefsey combines Gilead's emtricitabine and tenofovir alafenamide (marketed as Descovy) with rilpivirine, marketed by Janssen. Following the approval of Genvoya (elvitegravir 150 mg/cobicistat 150 mg/emtricitabine 200 mg/tenofovir alafenamide 10 mg; E/C/F/TAF) in November 2015, Odefsey is Gilead's second STR based on the Descovy backbone to receive marketing authorization in the European Union and is currently the smallest pill of any STR licensed for the treatment of HIV.
Odefsey is indicated in the European Union for the treatment of adults and adolescents (ages 12 years and older with body weight at least 35 kg) without known mutations associated with resistance to the non-nucleoside reverse transcriptase inhibitor (NNRTI) class, tenofovir or emtricitabine, and with a viral load less than 100,000 HIV-1 RNA copies/ml.
Combining the efficacy of Descovy with the tolerability of rilpivirine
Commenting on the announcement, Andy Ustianowski, MD, North Manchester General Hospital, said: "People living with HIV today are increasingly likely to be receiving treatment for other conditions – such as heart and liver disease – because they are living longer than ever before, exposing them for longer periods of time to the virus and to the medications used to treat it.  Therefore, we need new treatment options that are not only efficacious but also tolerable, and with convenient dosing. Odefsey combines the antiviral efficacy and safety profile of the new Descovy backbone with the established tolerability profile of rilpivirine as a third agent."
TAF is a novel targeted prodrug of tenofovir that has demonstrated high antiviral efficacy similar to and at a dose less than one-tenth that of Gilead's Viread (tenofovir disoproxil fumarate; TDF). TAF has also demonstrated improvement in surrogate laboratory markers of renal and bone safety as compared to TDF in clinical trials in combination with other antiretroviral agents.  Data show that because TAF enters cells, including HIV-infected cells, more efficiently than TDF, it can be given at a much lower dose and there is 90 percent less tenofovir in the bloodstream.
"The approval of Odefsey underscores Gilead's ongoing commitment to researching and developing new treatment options to help address the evolving needs of a range of HIV patients," said Norbert W. Bischofberger, PhD, Gilead's Executive Vice President, Research and Development and Chief Scientific Officer.
Related organisations
Related diseases & conditions