IFPAC®-2017 31st International Forum & Exhibition
Emerging technologies to modernize pharmaceutical/biopharmaceutical development and manufacturing…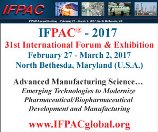 Advanced Manufacturing Science…
Emerging Technologies to Modernize Pharmaceutical/Biopharmaceutical Development and Manufacturing
IFPAC continues to set precedence as a forum for insightful discussions bringing you the latest trends and real-life applications in the field for the pharmaceutical, biotechnology, generic, food, and other related industries. The three day forum will focus on the latest developments in Advanced Manufacturing Science, Quality Initiatives, and Process Analytical Technologies…emerging techniques, new applications, instrumentation, software, standards, and a look into the future. High profile speakers will cover the critical and current topics:
QbD / RtRT / PAT – Case Examples, New Technologies & Approaches
Continuous Manufacturing and Quality Risk Management
Process Monitoring with Focus on Automation
Life Cycle Management and Emerging Regulatory Expectations
Emerging Technologies
Process Predictability through Controls and Modeling
And More…
IFPAC creates a unique platform to network with industry, academic and government representatives from across the globe. Join your colleagues at IFPAC-2017, an interactive event of manufacturers, researchers, and industry users. Hear the latest developments in RTRT, continuous manufacturing, process validation, risk management, lifecycle management, models & model maintenance, performance based control approaches, ICH Q12/established conditions, bio-manufacturing/bio-processing, biosimilars, international harmonization, emerging & innovative technologies, control strategies, PAT & QbD for the Generic Industry, Informatics/Big Data, Imaging, and numerous analytical technologies including: NIR, Raman, and Mass Spec and more… Held in conjunction with the Food Quality, Safety & Analysis Symposium.
You will not want to miss out on this opportunity for meeting with new & existing colleagues!
Register Today! Visit www.IFPACglobal.org for more details. Exhibition and sponsorship opportunities are also available.