7th Annual Strategic Alliance Management for Pharma
This marcus evans forum will help delegates to structure the Alliance management internally as well as to offer an insight on the responsibilities and roles of the Alliance function…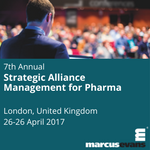 This marcus evans forum will help delegates to structure the Alliance management internally as well as to offer an insight on the responsibilities and roles of the Alliance function.

With various types of collaborations, complex projects, it's important for Alliance Management to be structured and to have the right tools available. The event will take place on the 24th – 26th of April 2017 in London, UK. This 7th Annual conference will offer delegates the possibility to discuss, exchange and compare their methods but also meet various stakeholders of the life science panorama.
Why join this marcus evans conference?
Implement the best practices in managing alliances
Improve alliance capabilities on the full alliances portfolio
Define and document common understanding and expectations with partners
Develop a set of tools to measure performance and objectives' alignment
Choose the right partner according to the strategy and needs
Set mutual trust and keep the relationship in good conditions
Expand Alliance management framework across the organisation
Cope with unsuccessful partnerships and termination processes
Expert Speaker Panel includes:
Teresa Faria, Sr. Director, Alliance Management, External Scientific Affairs, Daiichi Sankyo
Patrick Benz, Senior Director Alliance Management, Johnson&Johnson
Jeremy Ahouse, Executive Director Business Development & Global Alliances, Celgene
Christoph Huwe, Strategic Alliance Manager Therapeutics, Bayer Pharmaceuticals, Global External Innovation & Alliances
George Rahim, Senior Director, Alliance Management Center of Expertise, UCB
For further information, please contact Constandinos Vinall, [email protected] or visit the event website: https://goo.gl/PxV4F1