Developing nanopreparation properties for use in anticancer medicines
Tumour therapy, particularly in the case of multidrug resistant cancers, could be significantly enhanced by using siRNA to down-regulate the production…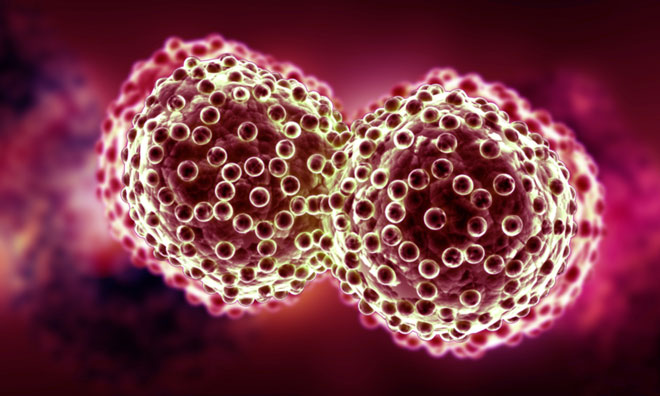 Illustration of a lung cancer cell dividing
Tumour therapy, particularly in the case of multidrug resistant cancers, could be significantly enhanced by using siRNA to down-regulate the production of proteins involved in cancer cell resistance such as Pgp or survivin, Professor Vladimir Torchilin told the 10th International Conference on Pharmaceutics and Novel Drug Delivery Systems on March 13.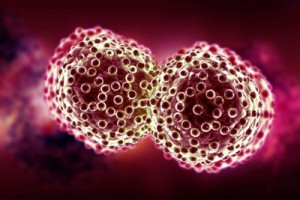 This response could be further enhanced by delivering siRNA to tumours together with a chemotherapeutic agent, said Prof Torchilin. But because siRNA is unstable in vivo, the delivery system should simultaneously protect it from degradation.
Nanopreparations could be loaded with poorly water-soluble chemotherapeutic agents, such as paclitaxel or camptothecin, into their lipidic core. Experiments with cancer cell monolayers, cancer cell 3-D spheroids, and in animals with implanted tumours, had shown that such co-loaded preparations could significantly down-regulate target proteins in cancer cells, enhance drug activity, and reverse multidrug resistance.
In order to specifically unload these nanopreparations inside tumours, Prof Torchilin and colleagues made them sensitive to local tumour-specific stimuli, such as lowered pH, hypoxia, or certain overexpressed enzymes such as matrix metalloproteases. Using pH-, hypoxia-, or MMP2-sensitive bonds between different components of nanopreparations co-loaded with siRNA and drugs, Prof Torchilin had been able to make the systems specifically deliver biologically active agents in tumours, with a significantly enhanced therapeutic response.
Vladimir Torchilin is a university distinguished professor and director at the Center for Pharmaceutical Biotechnology, Northeastern University in Boston.
Related topics
Related diseases & conditions