Toray introduce a new dimension in microarray sensitivity
Toray has announced the European release of its groundbreaking 3D-Gene™ products, a range of three dimensional DNA chips…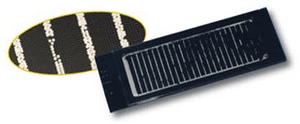 27k 3D-Gene™ DNA chip. Inset shows the microbeads in more detail.
Toray has announced the European release of its groundbreaking 3D-Gene™ products, a range of three dimensional DNA chips for use in microarray analysis.
The new microarrays utilise several unique features to enhance assay sensitivity, providing the perfect platform for working with low abundance targets such as microRNAs, or troublesome samples such as formalin-fixed paraffin embedded (FFPE) tissue specimens. In a new approach pioneered by Toray, each chip is composed of a black resin that reduces background fluorescence, while probes are attached to three dimensional microcolumns on the surface. In combination, these factors precisely define the spot morphology. The columns are also surrounded by microbeads that are encapsulated on the chip and can be agitated to ensure homogenous sample distribution during the hybridisation process. These properties maximise signal-to-noise ratio and increase accuracy, reproducibility and sensitivity. Importantly, the chips are compatible with current array scanning methods so that no specialised infrastructure is required to utilise the system.
Toray has extensive, global experience in applying its chemistry expertise to the development of innovative solutions across a broad range of applications. The 3D-Gene™ DNA chip technology designed by Toray sets a new benchmark in terms of microarray sensitivity and accuracy. The chips are capable of a high level of precision at concentrations as low as 0.1 attomol, providing an impressive improvement on currently available technologies. This will be especially interesting to those who would like to detect low abundance mRNA and microRNA targets in human, mice and rat samples. The system is also ideal for working with poor quality specimens or those containing a small amount of starting material (e.g., FFPE, serum or plasma), as 3D-Gene™ chips can precisely distinguish background noise from the low numbers of target molecules typically present in these samples.
In addition to the sale of pre-printed arrays, Toray produces customised 3D-Gene™ chips that contain up to 27,000 probes, each manufactured to a stringent set of quality control standards. They also provide a microarray analysis service, allowing researchers to send their samples to be analysed by Toray's experienced research team using a range of 3D-Gene™ DNA chips.
For more information about 3D-Gene™ chips visit www.3d-gene.com/en/.
The 3D-Gene™ DNA chip is for research use only.