Analytik launch PHARMA•ID
Analytik release PHARMA•IDTM throughout Europe, the smallest, lightest, most cost-effective solution for rapid non-destructive raw material identification…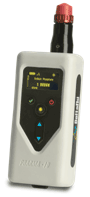 DeltaNu PHARMA•IDTM
Analytik announce the release of PHARMA•IDTM throughout Europe, the smallest, lightest, most cost-effective solution for rapid non-destructive raw material identification. Complying with 21 CFR Part 11, USP<1120> and EP Ch.2.2.48 guidelines, and supported with full IQ/OQ documentation, PHARMA•IDTM can be used to confirm the identity of excipients and APIs as they are received; greatly reducing the testing burden on the QC laboratory while allowing immediate 100% testing of measurable materials.
PHARMA•IDTM from DeltaNu is a compact, lightweight Raman spectrometer with a simple, yet powerful user interface. A range of attachments are supplied for the in-situ analysis of bulk powders through plastic packaging, powders and liquids in glass containers (including amber-coloured Winchesters), and a vial holder for small samples. The analyser does not require any user contact with the material to be tested, reducing the risk of accidental exposure and eliminating contamination.
By comparing the Raman spectrum of the tested sample against that of the materials stored in a pre-loaded, user-expandable spectral library, test results appear in seconds on its highly visible OLED display. PHARMA•IDTM can operate continuously for more than four hours on its rechargeable battery and connects via USB to a PC or wirelessly with its Bluetooth® interface. A pharmaceutical starter library containing USP certified materials comes as standard and a Bluetooth barcode reader for sample tracking is an available add-on.
Ian Laidlaw, Managing Director of Analytik, believes this new offering from DeltaNu will bring significant benefits in ensuring product quality;
'As a palm-sized Raman analyser, PHARMA•IDTM complements our already strong suite of portable spectroscopy products. PHARMA•IDTM is the ideal solution for fast, accurate identification of raw materials, intermediates and even finished products in pharmaceutical production. PHARMA•IDTM is also the perfect tool for on-the-spot detection and identification of counterfeit drugs. I'm delighted to be able to bring such an innovative product to Europe for the first time.'
To find out more about PHARMA•IDTM, visit www.analytik.co.uk