Report highlights pharma's key role in Scotland's economy
Following new Fraser of Allander Institute analysis, the new Director of ABPI Scotland has called upon the Scottish Government to continue to support and prioritise strategic investments in Scotland's research, development and manufacturing capabilities…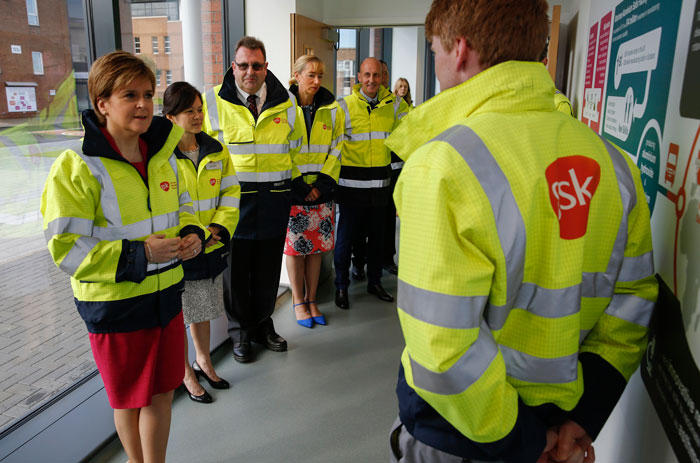 Following new Fraser of Allander Institute (FAI) analysis that maps out the economic contribution of Scotland's pharmaceutical sector, the new Director of ABPI Scotland has called upon the Scottish Government to continue to support and prioritise strategic investments in Scotland's research, development and manufacturing capabilities – as well as healthcare services – in order to secure the sustained growth of more than 5,000 highly skilled, high-value Scottish jobs.
'The economic contribution of the Pharmaceutical Sector in Scotland ', commissioned by the Association of the British Pharmaceutical Industry (ABPI) Scotland, shows that researching, making and distributing medicines is worth £2.7 billion a year to Scotland's industrial output, with Scotland's pharmaceutical sector also boasting the biggest jobs growth of any of the Scottish Government's key 'Growth Sectors' in recent years.
The FAI report states that the pharmaceutical industry employs 5,043 people in Scotland and indirectly supports 16,482 jobs elsewhere in the Scottish economy. This is often in parts of the country where job prospects are weaker than for the country as a whole – such as North Ayrshire. The average productivity of a Scottish pharmaceutical industry employee in 2015, expressed as Gross Value Added (GVA), is £112,364, more than double the Scottish average (£49,708).
At a UK-level, Scotland's pharmaceutical sector has also accounted for an increasing proportion of the UK pharmaceutical industry turnover and employment. According to the latest available turnover figures, the pharmaceutical industry in Scotland represents 4.3% of all UK pharmaceutical industry sales (in 2015) – an increase of nearly one third since 2008. This increased share of turnover has also had a significant impact on the total UK share of pharmaceutical industry employment, with data demonstrating that the industry in Scotland now supports 9.3% of total UK jobs (in 2015) up from 5.1% in 2008.
Alison Culpan, Director of ABPI Scotland, commented on the findings: "This new Fraser of Allander analysis highlights the vital contribution Scotland's pharmaceutical industry makes to the health and wealth of our economy. We are a sector that Scotland should be proud of – contributing far higher levels of productivity than the national average, employing people in highly skilled jobs across the length and breadth of the country, often in disadvantaged or rural areas.
 "Scotland – and the UK's – productivity challenge is well known, but this report shows our industry can be a driving force behind long-term sustainable economic growth. So, whether it is increasing the use of real-world data in NHS Scotland to generate research insights and improve care; incentivising further research collaboration between world-leading companies and universities; or, simply making sure that the medicines we make here are used here, the value that can be gained from investing in our industry's future is clear.
 "As we navigate the challenges of leaving the EU, it's more important than ever for the Scottish Government to be ambitious, working in collaboration with ABPI Scotland, our members and the wider Life Sciences community, to secure an environment for our industry to flourish, ultimately reaping rewards for patients and our economy."
Director of the Fraser of Allander Institute, Professor Graeme Roy, says it was important to capture the many different aspects of the industry's work in Scotland: "The pharmaceutical industry makes an important contribution to economic growth in Scotland. The contribution of the sector extends beyond the activities of pharmaceutical companies themselves, with their output supporting employment and income right across the Scottish economy.  
 This report also reflects the changing nature of the sector and the importance of a broad range of activities from high-valued R&D, sales and marketing, through to product and client servicing. At the same time, the lines between sectors, whether that be in University research or biotechnology, are increasingly interlinked. There are significant opportunities for Scotland in the years ahead to build on recent successes."
Professor Sir Pete Downes, Principal and Vice-Chancellor of the University of Dundee, added: "I welcome this report as a valuable reminder of the contributions that life sciences is making to Scotland, not just in terms of new therapies but in economic impact, employing thousands of people, attracting inward investment and building industries of the future.
 "This is a sector where Scotland has a significant presence, highlighted recently by ourselves being ranked as the most influential scientific research institution in pharmaceuticals, ahead of the likes of Massachusetts Institute of Technology and the University of California Berkeley. We aim to capitalise on our track-record, reputation and facilities in pharmaceutical research by spinning-out several companies in the coming months and years, and we are working hard to ensure that the Tay Cities Deal will provide the right infrastructure to keep and grow those spin-out companies in Scotland."