Around 60 percent of pharmaceutical manufacturing is outsourced
Informing the pharmaceutical drug development, manufacturing and commercialisation industry…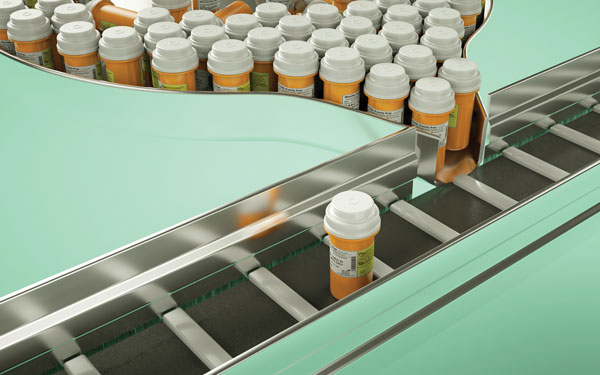 A market research report fromISR, Contract Development and Manufacturing Outsourcing Models, reveals the motivations and strategies behind drug innovators' decision to outsource and how different outsourcing relationships are selected. The report explores how sponsor organisations use contract manufacturers through various outsourcing models including Tactical or Transactional Outsourcing, Preferred Providers and Strategic Partnerships to streamline costs, better manage capacity, improve efficiencies and decrease time to market.
Currently, only one-third of manufacturing — whether in the development stages or after commercial launch — is conducted in-house.
"Currently, only one-third of manufacturing — whether in the development stages or after commercial launch — is conducted in-house. The bulk of work is outsourced, and preferred providers are currently capturing the largest portion of the work," explained Kate Hammeke, Vice President of Market Research at ISR. "This puts a high level of demand on CMO services, specifically in areas like speciality dosage forms, which often sit at the intersection of lack of capacity and lack of experience and forces the decision to outsource. This report digs into how the internal resources and know-how at sponsor organizations impact both the decision to outsource and which outsourcing model to use in order to gain the stability in supply appropriate to one's needs."
In addition, the report includes key statistics on the cost breakdown of an outsourced project by molecule type, stage of development and supply relationship (primary or augmenting internally manufactured supply) to support drug developers in identifying areas where potential savings can be gained and to improve a company's outsourcing strategy. Additionally, these data will prepare drug developers for the various challenges and difficulties their peers have encountered when using contract manufacturers and methods to alleviate the impact of potential issues.
The report also explores the decision-making hierarchies among those responsible for CMO selection at sponsor organisations as well as selection attributes for each outsourcing model investigated in detail. These data will enable sponsors to make better decisions regarding outsourced manufacturing. Contract manufacturers can gain an understanding of how sponsor experience and capacity to influence outsourcing strategies in addition to which drug products and components are most likely to be outsourced. CDMOs may use this report to plan for changes in outsourcing model usage, to understand why those changes may transpire and to capture new business by zeroing in on the elements that drive an outsourcing model's success.
Related topics
Related organisations
Related people