Senescent cells targeted with new nanocarrier drug delivery system
Senescent, or zombie cells, are being targeted with the development of a new nanocarrier drug delivery system.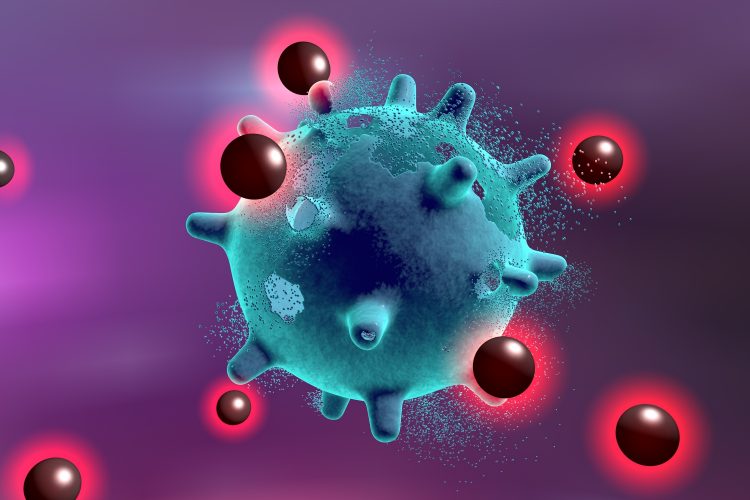 The destruction of a virus by nanoparticles
Senescent cells are being targeted with a new nanocarrier drug delivery system designed by an international team of researchers.
The damaged cells – commonly known as zombie cells – do not perform their normal role but remain living. Targeting such cells is a key challenge because they interfere with the functioning of the tissue in which they accumulate and contribute to the progressive deterioration associated with ageing.
Scientists in Spain at the Cellular Plasticity and Disease lab – headed by Dr Manuel Serrano, of the Catalan Institution for Research and Advanced Studies ICREA – have exploited a hallmark of senescent cells in order to design a delivery system that specifically targets them.
The researchers working at the Institute for Research in Biomedicine (IRB Barcelona) published a study in EMBO Molecular Medicine setting out a proof of principle of a drug delivery system with selectivity for tissues that harbour senescent cells.
Pulmonary fibrosis and cancer
Dr Serrano and colleagues, in collaboration with a team led by Ramón Martínez-Máñez at the Universidad Politécnica de Valencia, demonstrated the system's efficacy in cells in vitro and in two experimental mouse models, concerning pulmonary fibrosis and cancer. Both diseases are characterised by the presence of damaged cells, and, in the case of cancer, this is particularly true after chemotherapy.
The models were said to show the senescent cells take up the carrier more efficiently than other cells and, once inside the cell, the casing of the carrier degrades to release the drug cargo. Loading the nano-vehicles with cytotoxic compounds killed the senescent cells, and resulted in therapeutic improvements in mice with pulmonary fibrosis or with cancer.
"This nano-carrier may pave the way for new therapeutic approaches for serious conditions, such as pulmonary fibrosis or to eliminate chemotherapy-induced senescent cells," said Dr Serrano.
Diagnostic tests of senescence
The nanocarrier delivery system could also be used for diagnostic tests of senescence, since they can also transport a fluorescent compound or marker.
Other organisations taking part in the research were: Spanish National Cancer Research Centre (CNIO), University of Cambridge, Bioengineering, Biomaterials and Nanomedicine Networking Biomedical Research Centre (CIBER-BBN), and Pfizer in the US.
The study was funded by la Caixa Banking Foundation, Botín Foundation, the European Research Council, Cancer Research UK Cambridge Centre Early Detection Programme, the Ministry of Economy and Competitiveness and the Catalan Government.