Recent BPT acquisitions
Eurofins BioPharma Product Testing expands its footprint of GMP testing laboratories with recent acquisitions, including Astellas Analytical Science Laboratories, Inc. (ASL) in Japan, PHAST Gesellschaft für Pharmazeutische Qualitätsstandards mbH (PHAST) in Germany, and Bactup in France…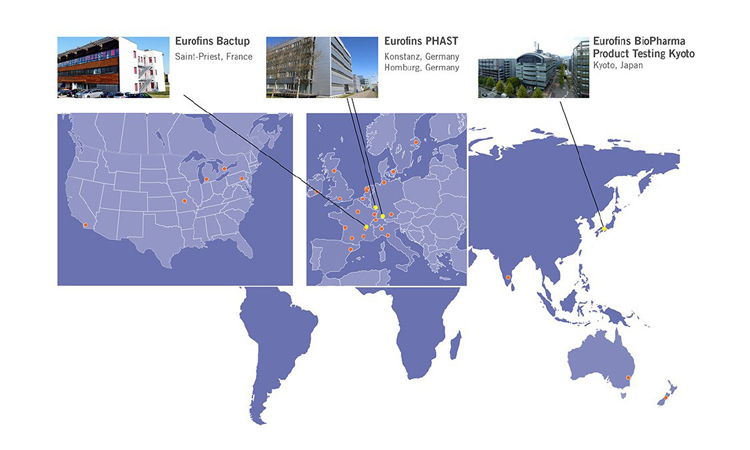 The addition of ASL establishes Eurofins' first Good Manufacturing Practice (GMP) testing facility in Japan. The acquisitions of PHAST and Bactup complement Eurofins' BioPharma Product Testing capabilities and expand Eurofins' geographical footprint in their respective markets.
Eurofins BioPharma Product Testing Kyoto
Astellas Analytical Science Laboratories (now branded Eurofins BioPharma Product Testing Kyoto) was established in 1996 as the core pharmaceutical product testing provider for Astellas Pharma Inc., one of the largest pharmaceutical companies in Japan. With 140 staff and a facility totaling more than 6,000 m2, Eurofins BPT Kyoto offers an extensive range of analytical testing services that enable high-quality pharmaceuticals to enter the market. The company provides quality assessment of raw materials, drug substances and drug products related to drug approval applications. It also offers quality evaluation of formulation, stability evaluation, test method validation, and physicochemical and microbiological testing using the latest analytical instruments available, as well as Cell Based Assay (CBA) for antibodies, and Reference Standard testing and management. Eurofins BPT Kyoto also provides Advanced Expert Analysis, including Foreign matter analysis and Formulation development support.
Eurofins PHAST
With more than 10 years of GMP and FDA compliance and a strong presence in Germany and Switzerland, Eurofins PHAST is best known for its finished product testing business, where it serves as a strategic partner to medium and large bio/pharmaceutical companies. PHAST provides pharmaceutical services with a focus on quality control (QC) testing of small and large molecules and analytical development services. PHAST's services portfolio comprises attractive high-end capabilities (i.e. Nuclear Magnetic Resonance (NMR), Mass Spectrometry, Inhalation Testing). Headquartered in Homburg, Germany, and with additional sites in Constance, Germany, as well as in Switzerland, PHAST operates two state-of-the-art laboratory facilities with approximately 300 staff totaling 6,000 m2 and ample space for expansion.
Eurofins Bactup
Founded in 2007, Eurofins Bactup specializes in microbiological testing with teams of qualified and experienced microbiologists and state-of-the-art instrumentation to perform detection, analysis, conservation and production of microbial strains for pharmaceutical and biotechnology customers under GMP compliance. Bactup provides a new way to manage microbial strains, allowing new quality procedures, for instance, regarding management of sensitive environmental strains or increasing the value of relevant strains. Bactup also offers support to perform day-to-day microbiological quality control assays, to develop new methods or improve clients' processes and also assist in results interpretation.