Clinical trial to develop breath test for cancer launched
A clinical trial to analyse breath for volatile organic compounds to detect different types of cancer has been launched by Cancer Research UK…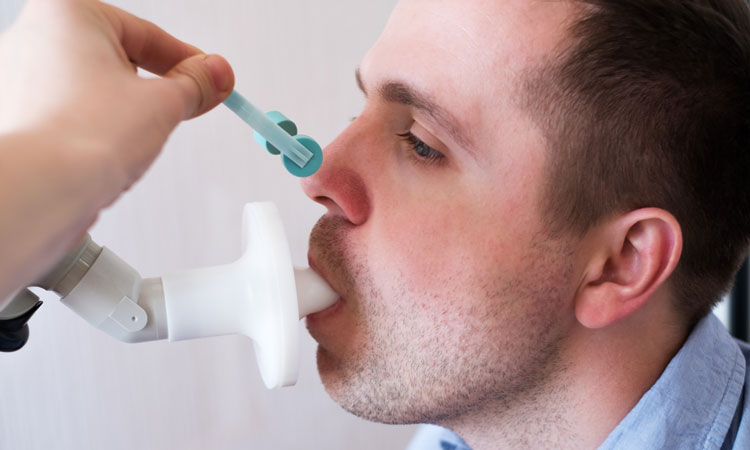 Could cancer be detected using a breath test?
Cancer Research UK have launched a clinical trial to develop a breath test to analyse molecules that could indicate the presence of cancer at an early stage. The Cancer Research UK Cambridge Centre is currently running the PAN Cancer trial for the Early Detection of Cancer in Breath. The team are working in collaboration with Owlstone Medical to test the Breath Biopsy technology.
Samples of individuals' breath will be collected in the trial to see whether volatile organic compounds (VOCs) can be detected.
Professor Rebecca Fitzgerald, lead trial investigator at the Cancer Research UK Cambridge Centre, said: "We urgently need to develop new tools, like this breath test, which could help to detect and diagnose cancer earlier, giving patients the best chance of surviving their disease.
"Through this clinical trial we hope to find signatures in breath needed to detect cancers earlier – it's the crucial next step in developing this technology. Owlstone Medical's Breath Biopsy technology is the first to test across multiple cancer types, potentially paving the way for a universal breath test."
VOCs are produced after cells carry out biochemical reactions. Should these reactions become altered – for example in cancer and other diseases. The pattern of VOCs released can then be analysed to identify any abnormalities.
The team will collect samples from 1,500 people, including healthy controls, and analyse whether they are able to detect signals of different types of cancers. The clinical trial hopes to begin to identify suspected oesophageal and stomach cancers, and then looks to expand to prostate, kidney, bladder, liver and pancreatic cancers.
The trial is recruiting patients to Addenbrooke's Hospital in Cambridge who have been referred from their GP with these specific types of suspected cancer, and will be given the breath test before other diagnostic tests.
Patients will be advised to breath into the test for 10 minutes in order for the team to collect a sample, which will be then analysed.
The trial hopes to pick up signals from different cancers that could differentiate between them. Samples from those who are diagnosed with cancer will be compared with samples from those who are not diagnosed.
Billy Boyle, co-founder and CEO at Owlstone Medical, said: "There is increasing potential for breath-based tests to aid diagnosis, sitting alongside blood and urine tests in an effort to help doctors detect and treat disease. The concept of providing a whole-body snapshot in a completely non-invasive way is very powerful and could reduce harm by sparing patients from more invasive tests that they don't need.
"Our technology has proven to be extremely effective at detecting VOCs in the breath, and we are proud to be working with Cancer Research UK as we look to apply it towards the incredibly important area of detecting early-stage disease in a range of cancers in patients."