Novozymes Biopharma secures business innovation award
Novozymes Biopharma, received the 2011 NEP Business Award…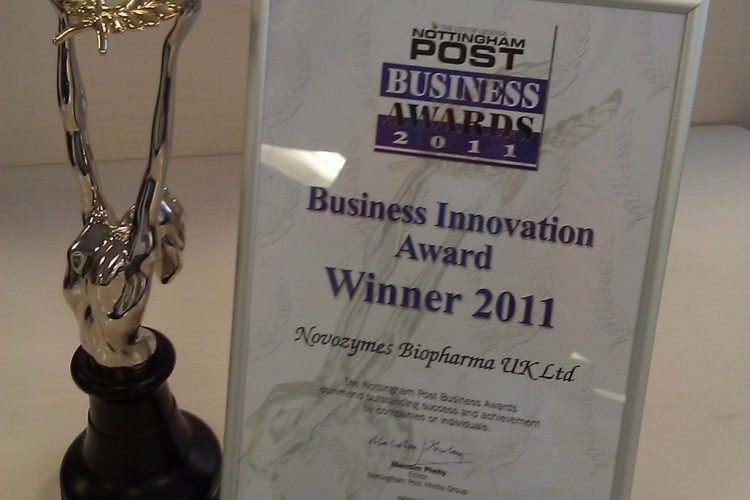 Novozymes has received a NEP Business Award for its outstanding contribution to pushing back scientific frontiers
Novozymes Biopharma, part of Novozymes A/S, world leader in bioinnovation, received the 2011 Nottingham Evening Post (NEP) Business Award in the business innovation category, for its innovative recombinant human albumin range.
The company has been recognized for its outstanding contribution to pushing back scientific frontiers by developing innovative, process improving solutions for the medical device and pharmaceutical manufacturing industries. The NEP business awards are designed to reward organizations in the region for setting new benchmarks in their industries and the company is delighted to add this accolade to its growing collection of awards.
"Novozymes Biopharma is pleased to have been selected for the business innovation award", comments Sally Vernon, Customer Communications Manager, Novozymes Biopharma. "We have a great infrastructure in the business and a dedication to science which is what makes us important to our customers. We are committed to working with customers to improve their products and processes and with the large pharmaceutical companies looking to reformulate many of their patents, we can support them by giving them the edge over their competitors."
Novozymes provides its customers in the biomanufacturing, medical device and drug delivery markets with regulatory-compliant, dedicated and proven products and technologies to optimize their manufacturing processes. By utilizing Novozymes' animal-free products including recombinant human albumin, customers are equipped to develop improved therapeutic treatments with real and sustainable benefits for patients. Novozymes' consistent products combined with the company's dedication to offering long-term supply in large volume quantities, means it can assist customers to commercialize their products faster, while maintaining safety and compliance.
The NEP business awards are recognized as the showcase for innovation in the region, recognizing Nottingham-based companies that are making pioneering contributions to their respective industries. The award's judging panel took into consideration a number of factors including the nurturing of innovation within the company's culture.
For further information on Novozymes' range of innovative products, please visit www.biopharma.novozymes.com.