Air cargo carrier unveils purpose-built pharmaceutical facility in Chicago
Emirates SkyCargo has commenced handling pharmaceutical cargo at a new purpose-built facility in Chicago.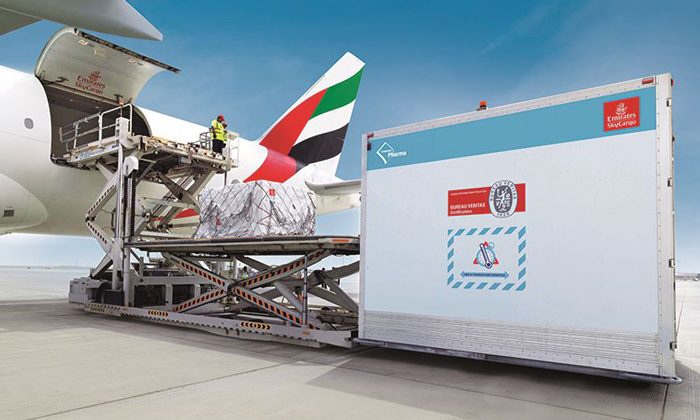 (Credit: Government of Dubai)
The new Emirates SkyCargo facility is solely dedicated to pharmaceutical shipments, is spread over 1,000 square metres and has scope for additional expansion. It has a capacity of 15,000 tonnes of pharmaceutical shipments per annum and provides comprehensive protection for pharmaceutical cargo through temperature-controlled zones for acceptance and delivery, pharmaceutical cargo build up and break down, as well as storage and direct ramp access. 
"Emirates SkyCargo is committed to the safe and secure transportation of temperature sensitive pharmaceutical shipments. Having a dedicated facility for pharma at one of our busiest stations for pharma in our network is a big boost to our pharma handling credentials and capability," said Nabil Sultan, Divisional Senior Vice President, Emirates SkyCargo. "This was also a unique model wherein we worked closely with the ground handler and were involved in the planning for the facility from the very beginning. Using our learnings from transporting pharma across six continents, we were able to collaborate to make the new pharma facility fit for purpose."
The facility, which is developed in partnership with ground handling company, Maestro, offers temperature-controlled zones (2-8 degree Celsius and 15-25 degree Celsius). The proximity of the facility to the ramp also means that cargo has to spend lesser time in transit to and from the terminal to the aircraft.
The Chicago facility is part of Emirates SkyCargo's broader strategy to enhance protection for temperature-sensitive pharmaceutical shipments. "Pharmaceutical cargo being transported by air are growing in their sophistication and complexity in terms of the strict regulations for handling and temperature control," added Henrik Ambak, Emirates Senior Vice President, Cargo Operations Worldwide. "We'll continue to look at how pharma flows through our network and add more stations in the future."
Related organisations
Related people