Raman seminar at the Natural History Museum
Posted: 3 November 2011 |
Raman spectroscopy came under the spotlight recently at the Natural History Museum in London…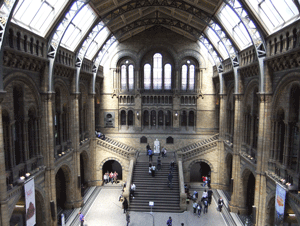 The Natural History Museum, London, stock image created by Green Lane
Raman spectroscopy came under the spotlight recently at the Natural History Museum in London, when Renishaw held its 2011 'inside Raman' seminar in the Museum's Flett theatre on 26th and 27th September.
Prominent scientists from a diverse range of disciplines presented their Raman research covering a variety of applications. Topics included: the analysis of ancient artefacts; live cell imaging; biopharmaceutical applications; and the investigation of new materials for solar panels. In addition to the exciting line-up of world-class speakers, demonstrations of the inVia Raman microscope's unparalleled flexibility and imaging capabilities, data analysis clinics, and behind-the scenes tours of the Natural History Museum, further contributed to the informative and lively atmosphere.
Renishaw would like thank Chris Collins at the Natural History Museum for helping to organise the event, and for providing the venue and Museum tours.
"This was an exciting meeting for the NHM to hold, highlighting the diversity of research being undertaken using Raman and the future research directions we can take using this exciting technology" Chris Collins, Natural History Museum.
Some of the feedback received from attendees:
"A major thank you for bringing the community together"
"All round, a very good conference. I enjoyed the wide range of topics / application areas covered"
"Very interesting talks and excellent venue / tours / demonstrations"
"Nice, well organised event"
"Very enjoyable & worthwhile seminar which was very well organised"
"An interesting and varied day, thank you"
"Excellent venue, well organised, nice lecture room environment, good interactive participation between lecturers, Renishaw staff, and delegates"
"Wide range of topics"
"Variety of talks was good"
"Good for networking"
"Interesting to see other work that is conducted using Raman"
"The lectures were extremely beneficial in terms of excellent knowledge and new information"
"The recognition of Raman spectroscopy as its own 'topic' as opposed to it just being a 'tool for analysis' makes the attendees appreciate there is a Raman community"
"Throughout, high-quality presentations"
For further information on Raman Spectroscopy visit www.renishaw.com/raman
Related topics
Related organisations