Syrris sponsor 1st Flow Chemistry Symposium in Brazil
Syrris, is pleased to be a sponsor of the 1st Flow Chemistry Symposium (1st FCS)…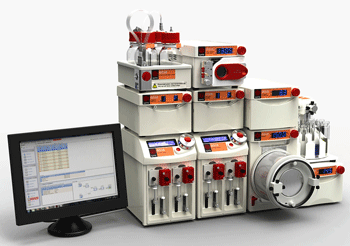 Asia flow chemistry system from Syrris
Syrris, a world leader in flow chemistry systems, is pleased to be a sponsor of the 1st Flow Chemistry Symposium (1st FCS). The Symposium, to be held at the Federal University of Rio de Janeiro, Brazil, on the 9th December 2011, will be the first international flow chemistry symposium to be held in South America, bringing together experts from around the globe to discuss the latest advances in flow chemistry.
Speakers at the 1st FCS will include Dr Nicholas Cosford, Associate Professor at the Sanford¬Burnham Medical Research Institute – an experienced user of Syrris flow chemistry systems – speaking about microreactor-based flow synthesis, and US Regional Manager for Syrris, Billy Bullock, who will be discussing the benefits of flow chemistry. "Flow chemistry methods have the potential to revolutionize the way we synthesize biologically active compounds, allowing highly efficient and environmentally friendly methods that can be readily adapted to manufacturing," said Dr Cosford. "Syrris is a pioneer in the development of technology that is empowering chemists in both industry and academia."
Join Syrris at the1st FCS in Rio de Janeiro to learn more about the applications and benefits of flow chemistry and see the revolutionary range of Asia flow chemistry systems, along with the Company's modular Atlas laboratory reactors.