Application Note: Morphological changes in drug compounds under the microscope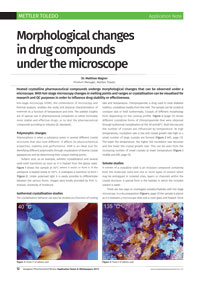 Heated crystalline pharmaceutical compounds undergo morphological changes that can be observed under a microscope. With hot-stage microscopy changes in melting points and ranges or crystallisation can be visualised for research and QC purposes in order to influence drug stability or effectiveness…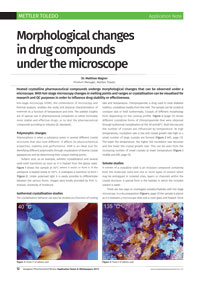 Heated crystalline pharmaceutical compounds undergo morphological changes that can be observed under a microscope. With hot-stage microscopy changes in melting points and ranges or crystallisation can be visualised for research and QC purposes in order to influence drug stability or effectiveness.
Hot-stage microscopy (HSM), the combination of microscopy and thermal analysis, enables the study and physical characterisation of materials as a function of temperature and time. The yielded insights are of special use in pharmaceutical companies to either formulate more stable and effective drugs, or to test the pharmaceutical compounds according to industry QC standards.
Polymorphic changes
Polymorphism is when a substance exists in several different crystal structures that also look different. It affects its physicochemical properties, stability and performance. HSM is an ideal tool for identifying different polymorphs through visualisation of diverse crystal appearances and by determining their unique melting points.
Related topics
Related organisations