Outsourcing in early drug discovery: Evolution and opportunities
This article describes the evolution of outsourcing within early drug discovery at GlaxoSmithKline (GSK), specifically for chemistry services applied to developing a compound from the screening hit through lead optimisation. It will touch on different business models, factors to consider when selecting potential CROs, the benefits of outsourcing and CRO management…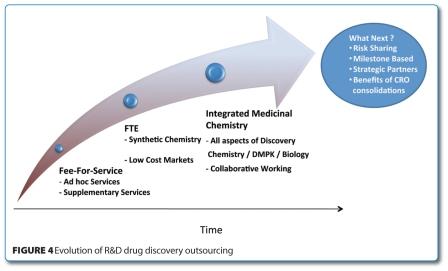 This article describes the evolution of outsourcing within early drug discovery at GlaxoSmithKline (GSK), specifically for chemistry services applied to developing a compound from the screening hit through lead optimisation. It will touch on different business models, factors to consider when selecting potential CROs, the benefits of outsourcing and CRO management.
Although pharmaceutical companies have always outsourced some of their activities, the outsourcing of drug discovery research (Figure 1) has grown significantly over the last 10 years.
The enabling factors include a vast improvement in global communications, an opportunity to access talent outside of big pharma and to an increasing number of signatories to Trade Related aspects on Intellectual Property Rights (TRIPS). It is well recognised that drug discovery research is a costly and risky endeavour, estimated to be USD 800 million of the USD 1.8 billion cost of a new chemical entity1. There are many factors that can contribute to reducing these costs: reducing cycle times, minimising late stage failures and making better decisions are imperative, however the use of external flexible resources can also provide significant cost savings. Although outsourcing can facilitate drug discovery research outside of established pharma structures, it needs to be well managed to succeed.
Background
In GSK, the term outsourcing is generally defined as contracting out services that were previously performed in-house or to access additional capabilities. In the mid-1980s, outsourcing covered mainly non-research activities such as the acquisition of chemical reagents, or high grade solvents and laboratory cleaning services. These activities were easy to assess in terms of cost effectiveness and posed little risk to the outcome of research.
With the advent of the High Throughput Chemistry (HTC) revolution in the mid-1990s, the outsourcing trend moved towards the synthesis of non-commercially available building blocks to support library synthesis. This activity tended to be prescriptive with exact chemical structure and purity being defined. Most building blocks were known compounds and could be easily prepared by literature procedures with minimal risk. However, many were new which gave Contract Research Organisations (CROs) the opportunity to demonstrate their chemical prowess. These CROs were based mainly in the UK, USA and the EU with the majority of the work being conducted on an agreed price basis (Fee-For- Service or FFS).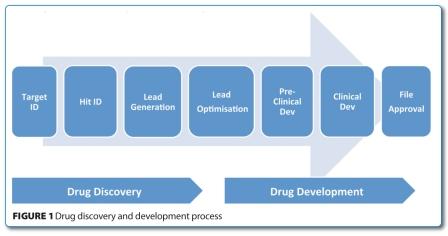 As demand increased, alternative commercial models were established, focusing on paying for scientists' time (Full Time Equivalent or FTE). This was deemed more effective from both the pharma and CRO's perspective because of the added benefit of continuous work flow, reduced timelines and reduced bureaucracy at contract start up. As a result, careful management by both parties was required to ensure the services were utilised effectively. The successful use of CROs in the lead generation area encouraged the medicinal chemistry groups to outsource the preparation of compounds via mainly prescriptive chemistry, e.g. late stage intermediates, building blocks and final test compounds for medicinal chemistry projects. With the demand for outsourcing of prescriptive chemistry increasing, and the need to reduce costs, pharma looked to the emerging markets which prompted a rise in CROs based in Asia. India already had a long history in pharmaceutical manufacture and many established companies, along with new ventures, started offering services in the drug discovery research space. This was quickly followed by a massive expansion of new CROs based in China making the choice of CROs and services somewhat overwhelming.
Chemistry services outsourcing strategy
During the early 2000s, outsourcing of chemistry services was managed at a local level without full coordination of contracting and commercial arrangements, both across GSK R&D and with the various CROs. Over time, multiple chemistry groups around the globe covering hit to lead and lead optimisation were outsourcing various chemistry activities, utilising over 50 CROs by the end of 2005. Senior R&D management recognised that it would be beneficial to take a holistic approach to chemistry services outsourcing, aiming to coordinate efforts and leverage greater value based on the potential future requirements.
To support this effort, a cross-functional Core Team was established. This comprised representatives from each of the scientific groups, Environmental Health and Safety, Global R&D Operations, Finance, Legal and Procurement with a remit to review chemistry services outsourcing activities for drug discovery research. Following an initial review by the team, the following observations were highlighted as areas for potential improvements:
better co-ordination of outsourcing activities across GSK R&D, including focused single-point negotiations with CROs
avoiding duplication of effort and resources
increasing consolidation of requirements to avoid unnecessary costs for services giving increased leverage and improving overall direction and strategy
It was recognised that a formalised outsourcing strategy would deliver a greater value, not only from the CROs, but also from GSK's internal resources. Thus, an increased volume of outsourcing would release internal resources for more creative and innovative drug design activities. This led to a re-design of the principles for chemistry services outsourcing, including categorising the service offering (Figure 2) from CROs, with predefined parameters for quality, performance and cost. As a result of this exercise, the number of CROs was rationalised, costs and contracts were standardised and supplier management was made more formal and transparent.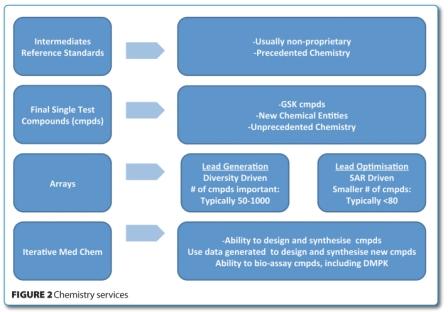 CRO rationalisation
The cross functional Core Team worked together to understand the marketplace and gather data from CROs via a Request for Proposal (RFP) which identified a series of sourcing options. These efforts identified a hybrid strategy with an approximate 90:10 split between key CROs and niche chemistry service providers. This was deemed to be the most acceptable model across the GSK chemistry groups that needed access to both a rationalised CRO pool and specialised chemistry services. Articulating significant benefits of the strategy proved pivotal in gaining buy-in from the GSK chemistry groups, all of whom agreed that a single solution utilising a small number of CROs in different emerging markets was appropriate. As a result, the Chemistry Services Outsourcing platform was used within R&D as the template for other crossfunctional outsourcing activities.
Overall, collective cross functional team – work drove a successful sourcing process, which generated new ideas, improved internal waysof- working and created a R&D-wide sourcing strategy.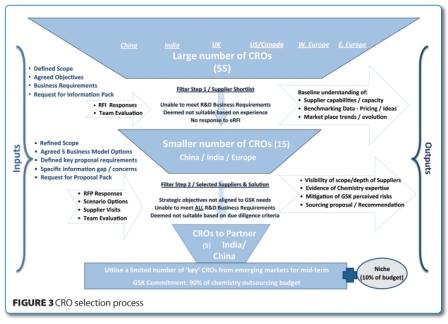 Figure 3 shows the stages of the CRO selection process that achieved a reduction in the supply base from 55 to five preferred CROs based on objective evaluation criteria. Many CROs were removed from Step 1 because they did not have sufficient FTE capacity or experience to meet GSK requirements. Then, following due diligence visits and the responses from a Request For Proposals (RFP), the pool of the remaining 15 CROs was reduced to five. This reduction was based on the ability to meet business needs, budgets, safety requirements and our commitment to split the budget 90:10 to the preferred CROs and niche chemistry activities.
CRO management
As well as increasing value, the reduction in the supply base brought the opportunity for improved relationships with CROs. As a result, a governance process was implemented, incorporating a two tier CRO relationship approach: the science on a daily to biweekly basis and the strategy on a bi-annual basis against a number of key performance indicators, such as productivity measuring both activity and deliverables.
The governance and bi-annual reviews were critical as it built trust in a transparent way by reviewing key performance measures and giving qualitative and quantitative feedback. Typical areas for review include logistics e.g. acquisition of reagents, shipping of goods, changes in legislation, staff turn-over, and ways to mitigate risk against future problems. The introduction of these CRO bi-annual reviews were considered unique at the time. One area of major consideration is that of acquisition of starting materials and, although there has been a significant improvement over the last six years, this is still a significant differentiator between geographical locations and CROs.
At a tactical level, the pharma and CRO relationship exists in a scientifically challenging, highly dynamic environment. Accordingly, the importance of good communication and rapport between scientists on both sides should not be underestimated nor overlooked in any 'value' considerations. It is essential that, at the project level, there is single point accountability on both sides to drive the collaboration so that the flow of work, updates on progress and data exchange is funnelled through this single conduit. This avoids the CRO getting conflicting requests and priorities, allowing the pharma lead chemist to prioritise the work while responding quickly to the output of compounds and or data from the CRO. It is important that the pharma lead chemist is given sufficient time and management support to conduct this role properly and that it is not considered simply as a trivial 'bolt on' to the day job.
Although much outsourced work can be prescriptive in nature, ownership of any problem solving arising from the work may be given to the CRO to enable them to further develop their level of scientific expertise. This, however, needs to be carefully balanced against the need for the pharma chemist to be promptly informed if problems become intransigent. Recognition of outstanding CRO chemists' effort is also important and a small pharma budget can be allocated to reward highly effective individuals at the CRO.
Commercial business benefits
There were numerous benefits to early drug discovery gained through the development of the chemistry services outsourcing strategy including:
Competitive pricing: standardised FTE rates at a 'best' cost
Year-on-year cost savings: FTE numbers used to create commercial leverage and generate average annual cost benefits
Supplier non-complacency: promotes competitiveness across at least five CROs
Emerging markets expansion: enables spreading of political and economic risk across two emerging markets
Risk mitigation: standardised contracts, CRO performance measurement enabling internal and external benchmarks for assurance of longer term supply
Chemistry services standardisation: 'Menu of Services' to meet all business requirements
Global working group: continuation and evolution of cross-functional Core Team to drive best practices
Value advantage: FTE leverage leading to increased productivity of potential drug compounds
Focus: increased outsourcing of synthetic chemistry allowing focus on higher value, core expertise of drug design
Extra capacity: opportunity to pursue more areas of research in parallel thus reducing cycle times and attrition
Current considerations
Building on the success of the chemistry services outsourcing efforts, CROs have continued to develop their capabilities aspiring to more integrated medicinal chemistry type services. CROs are now increasingly offering more flexible resourcing models between chemistry, biology and DMPK services which GSK is using to various degrees across R&D (Figure 4).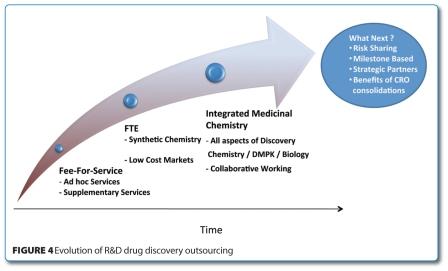 Furthermore, the nature of the tangible deliverables has changed from 'compounds' (which need to be shipped back for bioassay) to that of 'biological data'. Of course, this would not be possible without excellent communications and relationships at a personal level between scientists, and with secure transmission of electronic data.
Working with a smaller number of CROs has enabled the development of mutually valuable strategic CRO relationships and it is now recognised that outsourcing of drug discovery research services is a significant resource critical to the business. Crucially, the professionalism of the selected CROs was pivotal to the successful outcome of our strategy. As our outsourcing strategies evolve, new business models like risk sharing are under consideration.
Summary
At the present time (2012), GSK R&D management recognise the value of strategically coordinating drug discovery outsourcing efforts across the evolving GSK Discovery organisations because it delivers step change benefits scientifically, financially and in relation to supply management across GSK. On the financial side, costs have been reduced and extra capacity has been released. On the supply management side, drug discovery outsourcing has a single unified approach that manages the CRO relationship, including contracts, metrics, issue resolutions and strategy across GSK R&D.
Furthermore, GSK has established an effective R&D Drug Discovery Outsourcing oversight programme to ensure that CROs understand GSK ethics, values and expectations, ensuring acceptable standards whether they are GSK defined, required under law or selfregulatory industry standards. Additionally, GSK has implemented appropriate governance with its CROs to ensure that GSK standards and contractual terms are being met. This supports GSK's effort to mitigate risk to ensure that GSK does not suffer unnecessary business inter – ruption and mitigating risks.
As a result of the development and implementation of the outsourcing strategy, this has allowed our scientists to focus on what they do best – discover new drugs. This extra capacity and focus should ultimately enable scientific advancement, leading to better quality molecules which, because of less attrition, will get to patients faster.
Reference
1. Paul et al, Nature Reviews Drug Discovery 9, 203-214, 2010
About the authors
Jayshree Mistry has experience in Synthetic, Medicinal and High Throughput Chemistry (HTC) gained over 28 years working for GSK. Since 2006, she has been engaged in the management of projects working with external companies in Europe, Russia, Ukraine, India and China, with a primary focus on refreshing the GSK screening collection with lead-like compounds. She has made significant contributions to the development of new technologies in HTC, to the development of drugs for serotonin agonists, novel kinases and GABA-b. She has co-authored eight publications in refereed journals and been awarded the SCI distinguished service award for her services to the Society of Chemical Industry.
Paul Lloyd is involved in the continued refinement of the GSK Discovery Outsourcing Strategy. He has made a significant contribution to the development, implementation and ongoing management of an R&D Outsourcing Governance process. Paul's experience at GSK has been gained within various roles including leading an instrumentation design group and managing operations within the Neurosciences Biology Department before taking up his current role to manage a range of initiatives across Medicinal Discovery & Development. Paul has co-authored several publications / patents and has qualifications in project and business management as well as being a Chartered Engineer.
Kevin Oliver has a broad range of global business experience in roles of increasing responsibility within Procurement and Finance across multiple divisions of GSK, including Manufacturing, Emerging Markets, Corporate and pharma R&D. He has successfully led multiple global teams and projects within GSK to design and deliver best in class outsourcing strategies, focusing on value delivery. Most recently, he has worked to define and implement opportunities for GSK Drug Discovery to achieve breakthrough innovative solutions with strategic suppliers in emerging markets.
Dr Peter North has a medicinal chemistry background having worked initially in Medicinal Chemistry teams, then as a multidisciplinary Project Leader and latterly as Director of Medicinal Chemistry Departments at GSK. He has co-authored over 100 publications / patents across diverse therapeutic areas and was co-inventor / Project Leader of two marketed drugs and several development candidates. Currently Director of External Discovery, he is involved in developing an effective outsourcing strategy for the Respiratory Therapy Area and across Drug Discovery at GSK as well as assessing potential in-licensed drug assets and platform technologies.
Duncan Judd is the founder of Awridian, a consultancy company with expertise in early phase drug discovery. He is a medicinal chemist, and has extensive experience in outsourcing of drug discovery. Previously, Duncan's 39 years of experience at GSK encompassed refreshing a screening collection with lead-like compounds, and developing the design, selection and acquisition of building blocks for array chemistry. As a medicinal chemist, he made significant contributions to numerous projects including Histamine H2 antagonists, selective opioid Kappa-agonists and cytoprotective Prostaglandins.