From simple automation to smart labs: the future for drug discovery
Phoebe Chubb explains how emerging technologies are enabling laboratory automation to occur on a smaller scale, with a less prohibitive price tag, and discusses the potential of smart labs to significantly transform the R&D environment.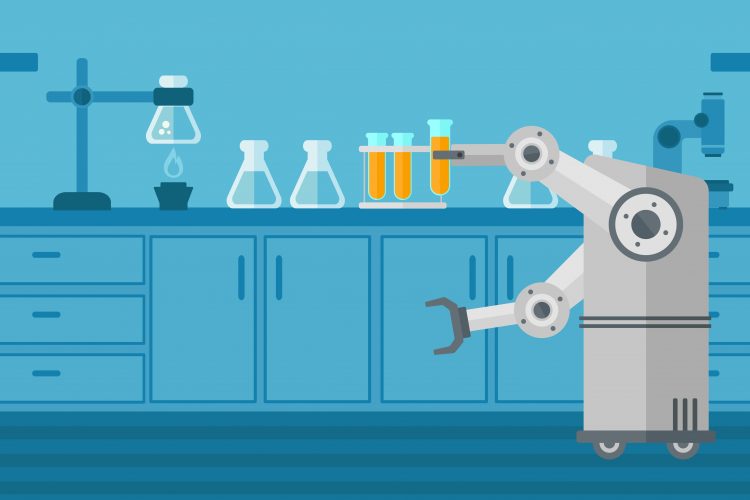 It has become apparent that there is a strong correlation between the implementation of disruptive technologies and increases in productivity and quality compliance in R&D. Since it was first introduced, automation has continually revolutionised the laboratory environment. With its ability to perform a large volume of repetitive tasks to high standards, automation has been heralded as a way to alleviate the modern-day pressures on scientists. With increasing digitisation in the laboratory, innovators have combined the concept of automation with other enabling technologies to partially automate experiments on a much smaller scale and enable greater connection in the laboratory. The result is a fully connected "smart lab".
At first, scientists primarily used automation in the laboratory for drug development and production, as it helped with drug synthesis on a large scale and high-throughput analysis of materials. Automated machines have had a "long and fruitful history" as a method for reducing human involvement in tasks, thereby speeding up the time taken to complete assignments, as Schneider emphasises in his 2017 paper.1 However, over the years, advances in technology have led to more nuanced approaches being developed, so as to improve precision, compliance and the replicability of results. Smart labs are a form of automation that connect researchers with their equipment in order to reduce randomness and human related error. With increased efficiency in the laboratory, it promotes a less wasteful environment that is expected to speed up drug discovery processes.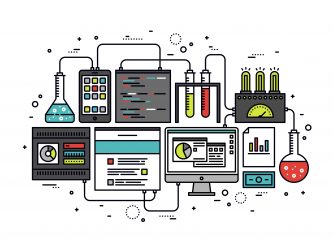 It is important to note that the smart lab comprises many different machines, software and devices that vary depending on laboratory preference. Different research specifications have different preferences for software solutions, for example, service laboratories tend to favour a laboratory information management system (LIMS), whilst other research types (eg, agricultural laboratories) typically use an electronic lab notebook (ELN) as a means for recording research. Using different solutions creates additional barriers that laboratories need to be overcome when integrating automation, as the device that is chosen must be compatible with automated devices to ensure success. In many laboratories, the implementation of software as a means of digitally recording research data is the first step to greater forms of automation and connectivity.
By adopting smaller, more agile forms of automation that can be connected to all documentation software and working equipment, the laboratory environment can be united at a significantly smaller cost. Over the past few years, the demand for smaller, more agile solutions has grown alongside other technological advances. The laboratory execution system, for example, is a form of laboratory automation that facilitates the connection of existing laboratory equipment available on a local server or cloud.
The overall impact of automation on drug discovery and development is overwhelmingly positive as automation is no longer only about high-throughput, but connecting the laboratory environment in order to stimulate greater precision and accuracy of results in R&D.
What to look forward to in the labs of the future
The ability to control devices remotely, schedule research processes and implement sensors will undoubtedly have a positive impact on researchers' ability to discover and produce drugs…"
Smart labs combine automation technologies with other forms of Internet of Things (IoT) technology, namely sensors and automated devices, from pipettes to centrifuges. When used in conjunction with IoT technology, scientists can use automation solutions to control their existing laboratory infrastructure comprised of devices, software systems and databases to efficiently co-ordinate workflows. This approach enables researchers to monitor every aspect of an experiment from start to finish, also ensuring resource management and team collaboration is simple and safe. Given this extra flexibility, accuracy and precision, the process of discovering and developing drugs will be made significantly more productive.
Conclusions
Since its inception, automation has been a ground-breaking technology that has driven progress in many sectors, not just in science. The ability to control devices remotely, schedule research processes and implement sensors will undoubtedly have a positive impact on researchers' ability to discover and produce drugs for the purpose of healthcare. However, many still think of automation on the large scale, for instance, high-throughput machines that have hefty prices attached. However, advances in technology and software are constantly bringing about new ways to improve experiment execution and documentation in science. Whilst the widespread application of these innovations can create challenges for laboratories (predominantly financial), there are many opportunities to be gained from implementing such a system into the drug discovery research field. Fundamentally, the promise of connecting the laboratory, combined with the maximisation of disruptive technologies like automation and IoT marks a key time of progression for science.
About the author
Phoebe Chubb is a freelance writer who specialises in the implementation of IoT and other enabling technologies into the laboratory environment. She has published articles on high profile sites such as Hackernoon, IoTforall, The Pie Blog and many more. Her articles address the importance of digitalisation in research and development, highlighting the pivotal role it plays in ensuring scientific advancement.
Reference
Schneider, G. Automating drug discovery [Internet]. Nature Reviews Drug Discovery 17, 97–113 (2018). Available at: https://www.nature.com/articles/nrd.2017.232