Microfluidic chips: Lab-on-a-chip cell culture for metabolomics
Microfluidic devices (MFDs) have recently become popular as cell culture platforms for metabolomics due to reduced reagent requirements and the feasibility of flow-based studies. Such devices have the potential to transform pharmaceutical research by providing an online approach to high-throughput screening which can be coupled with a variety of analysis strategies. This brief review will focus on advantages and challenges of cell culture in microfluidic chips for use in targeted and untargeted metabolomics experiments. Additionally, advances in on-chip sample preparation methods, including solid phase extraction and lysing, will be explored.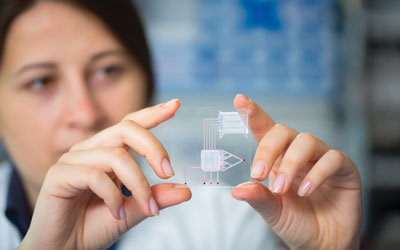 Metabolomics, the study of small molecules involved in metabolic reactions, has proven a useful tool for providing insight into a variety of cellular processes and disease states.1 It is capable of offering both qualitative and quantitative information about multiple intra- and extra-cellular metabolic pathways. Cellular metabolic profiles can yield important information regarding biological environments which can be used to elucidate pathophysiological mechanisms of diseases ranging from diabetes to cancer.2
Advances in metabolomics research have been hindered by the lack of suitable in vitro models for cellular metabolomics experiments. Traditional cell culture methods involve the use of cell culture flasks and well plates to grow human or animal cells which are then subjected to various stimuli relevant to the system of interest. Relatively large plates (~10-20 cm2) are often used to ensure that enough cells are present to produce metabolites in detectable quantities. The volume requirements of conventional cell culture apparatuses prohibit many long-term flow-based studies in which large quantities of reagents are required. Another disadvantage of conventional cell culture techniques is the inability to simulate the dynamic conditions that are present in vivo. Cell culture flasks provide only a static two-dimensional environment for cells and offer limited flexibility in terms of integrating scaffolding and other architecture for three-dimensional cell culture…
The rest of this article is restricted to logged-in members. Login or subscribe free to read it.