The SSPC: leading the way for next-generation medicines manufacture
Posted: 3 September 2015 |
The Synthesis and Solid State Pharmaceutical Centre (SSPC), a global hub of pharmaceutical process innovation and advanced manufacturing, is funded by Science Foundation Ireland (SFI) and Industry, and represents a unique collaboration between 22 industry partners, nine research performing organisations and 12 international academic collaborators. It is a €42 million state-industry investment, which supports a globallyleading research team of 38 investigators, 34 post-doctoral researchers and 60 PhD candidates.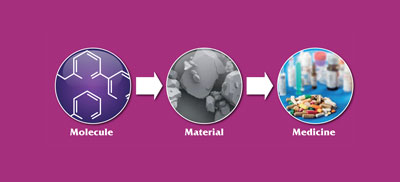 As the largest research collaboration in Ireland and one of the largest globally within the pharmaceutical area, the SSPC transcends company and academic boundaries. Its role is to link experienced scientists and engineers in academia and the pharmaceutical industry, to address critical research challenges and to deliver industry-relevant solutions, which result in job growth and retention within the pharmaceutical industry.
From molecule to medicine
The SSPC leads the way for next-generation medicines manufacture. Its research programme spans the entire pharmaceutical production chain from synthesis of the molecule to the isolation of the material and the formulation of the medicine. The SSPC's globally-leading research programme is organised into three interconnecting strands (Molecule, Material, Medicine), which actively reflect the three distinct steps in the manufacture of modern medicines. The Centre supports 19 research projects across these three strands of research, which are divided into nine platform projects that aim to progress scientific state-of-the-art research, driven by scientific challenges of the area; eight targeted projects that are driven by scientific challenges of specific industrial needs; and two linker projects that are the interactions between the strands, which concentrate effort at interfaces where the most important developments need to take place. In addition to these 19 research projects, the SSPC has recently expanded its remit into the biopharmaceutical arena, through a new state-industry funded collaborative project, which will conduct cutting edge research in the area of extractable and leachable compounds.
The rest of this article is restricted to logged-in members. Login or subscribe free to read it.