Designing a novel continuous manufacturing plant with superior monitoring and control
There is a growing interest in manufacturing the pharmaceutical product continuously . Along with other advantages , it provides an appropriate platform to implement suitable monitoring and control architecture, to improve the product quality and minimise product rejection and operating expenses. Continuous pharmaceutical manufacturing can be also considered as a 'data rich' operation since data is continuously generated from the substantial experiments employed in the process development activities or process operation. Therefore, a systematic framework is needed through which suitable sensing and control architectures can be designed, developed, evaluated and implemented into a continuous pharmaceutical manufacturing plant. In addition, an efficient data management system is required for data storage, organisation and subsequent applications. The objective of this article is to introduce a continuous pharmaceutical manufacturing process and pilot plant, and highlight the process analytical technology (PAT), control and data management system integrated with it.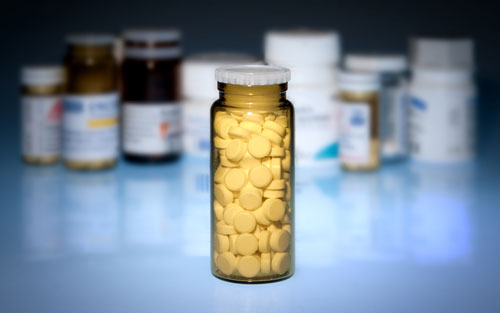 The pharmaceutical industry is a global business sector with around $1 trillion annual sales focused on performance-based products designed to address the healthcare needs of the world's population. Traditionally, pharmaceutical products involving solid dosage forms were produced using batch processes. One major advantage of batch processing is flexibility of using the same equipment for multiple purposes. However, batch manufacturing processes have some inherent limitations that can be overcome through continuous manufacturing2, which itself offers the advantages of high efficiency, ability to enhance product quality, better controllability and reduced need for space, labour and resources.
Driven by these benefits and as a result of initiatives taken by United States National Science Foundation Engineering Research Center on Structured Organic Particulate Systems (C-SOPS), the pharmaceutical industry is currently undergoing a paradigm shift from batch to continuous manufacturing. The US Food and Drugs Administration (FDA) has also been very encouraging and supportive of the changes1. Consequently, most of the large pharmaceutical companies are in process of either building continuous pharmaceutical manufacturing plants or filing for approval to regulatory agencies such as the FDA. One continuous pharmaceutical manufacturing plant, described in this article, recently received regulatory approval, which indeed serves as a motivating example for this paradigm shift…